15 October 2019 - in
28th October: Ecstatic Vision + Lacertilia + Cybernetic Witch Cult + Moon Goose at The Lanes, Bristol
Not even 2 weeks before we head back to the Lanes, Bristol to party with the amazing Ecstatic Vision, Lacertilia and Cybernetic Witch Cult.
It's almost a trip to the past because last time Ecstatic Vision were in town, we already opened for them with Cybernetic Witch Cult. It was incidentally the semi-finals of the World Cup and it was a weird day! This time, Wizzarding Promotions (associated with BLG Promotions) added Lacertilia to the mix and here we go again!
Here is a teaser video to celebrate: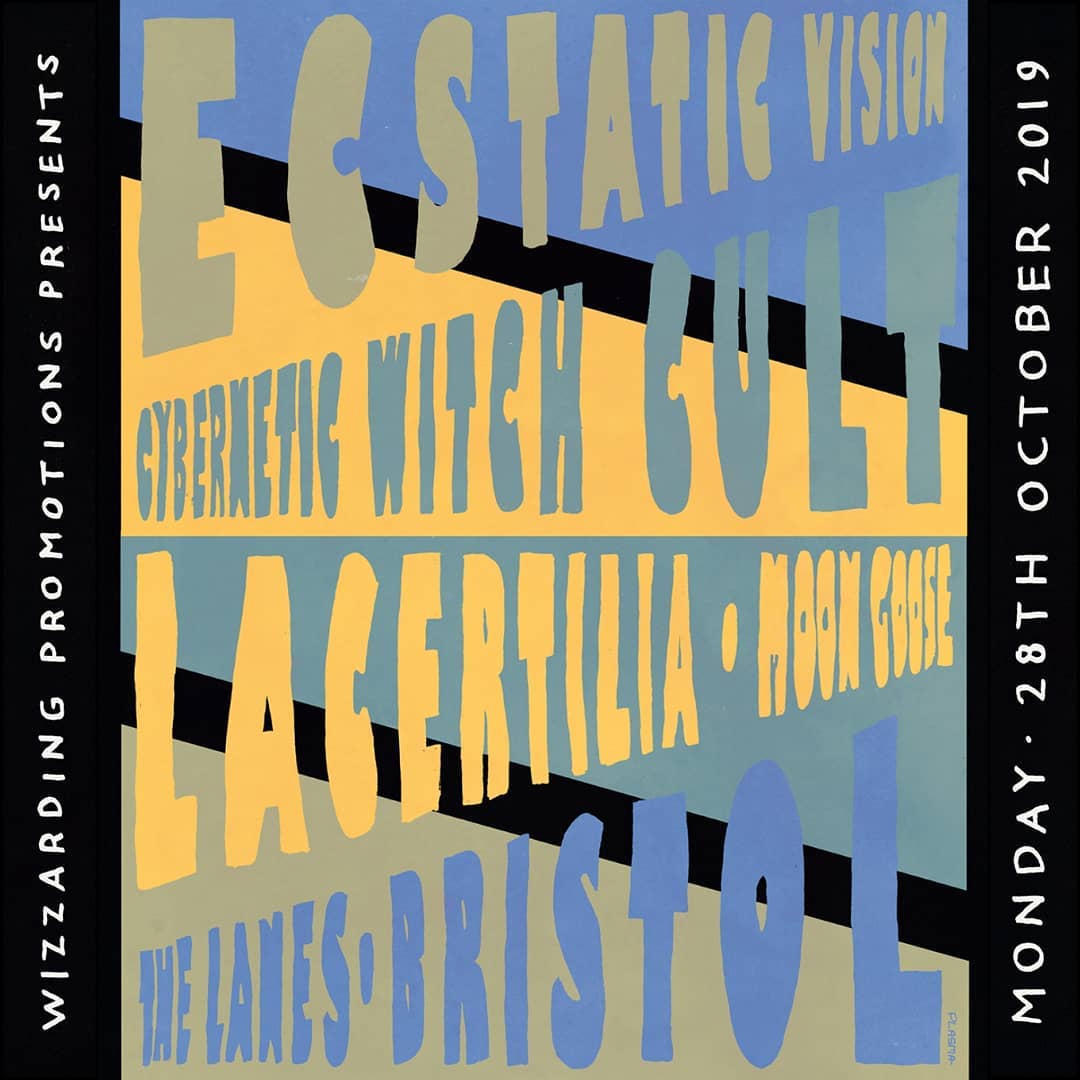 10 October 2019 - in
We've just received a mixed version of Second Life from our set at the 17th Dream of Dr Sardonicus Festival in August and it's powerful as hell. Can't wait to share that with you. 🌝
Thanks Al Ashford for that brilliant mix!
30 September 2019 - in
[edit: we had to pull out of this tremendous gig! It's a pain because we were very much looking forward to it. We'll be back in Worcester and hopefully we'll get to play soon with Raptor and Nuns of the Tundra. Sorry about that.]
Our next gig will be at Marr's Bar in Worcester on 11th October with Raptor and Nuns of the Tundra.
—
After the release of their debut vinyl album 'ESCAPISM', the mighty RAPTOR will be hitting the Marr's Bar in Worcester this October 11th as part of their winter UK tour!
Having previously opened for Robert Plant, Dr Feelgood, Mick Ralphs (Bad Company) among others, their critically acclaimed debut has already received airplay worldwide across England, America, France, Germany, Holland, Russia, Greece, Turkey & Hungary as well as being championed by Rock Radio UK, Radio Brooklyn USA and It's Psychedelic Baby Magazine in Slovenia.
The trio will be unleashing an assault of glam-tinted fuzz and bombastic, 'freak-out' drums along with very special guests NUNS OF THE TUNDRA + MOON GOOSE for a ripping night of electrifying psychedelia!
Set your lasers to thrill Worcester, these garage-rockers are taking no prisoners…
Tickets £6 ADV // £8 OTD
DOORS: 8PM