Music
The Wax Monster Lives Behind the First Rows of Trees occupies a liminal space: between EP and album, between Iowa and Hanoi, between druid and mushroom, between life before COVID and life after it.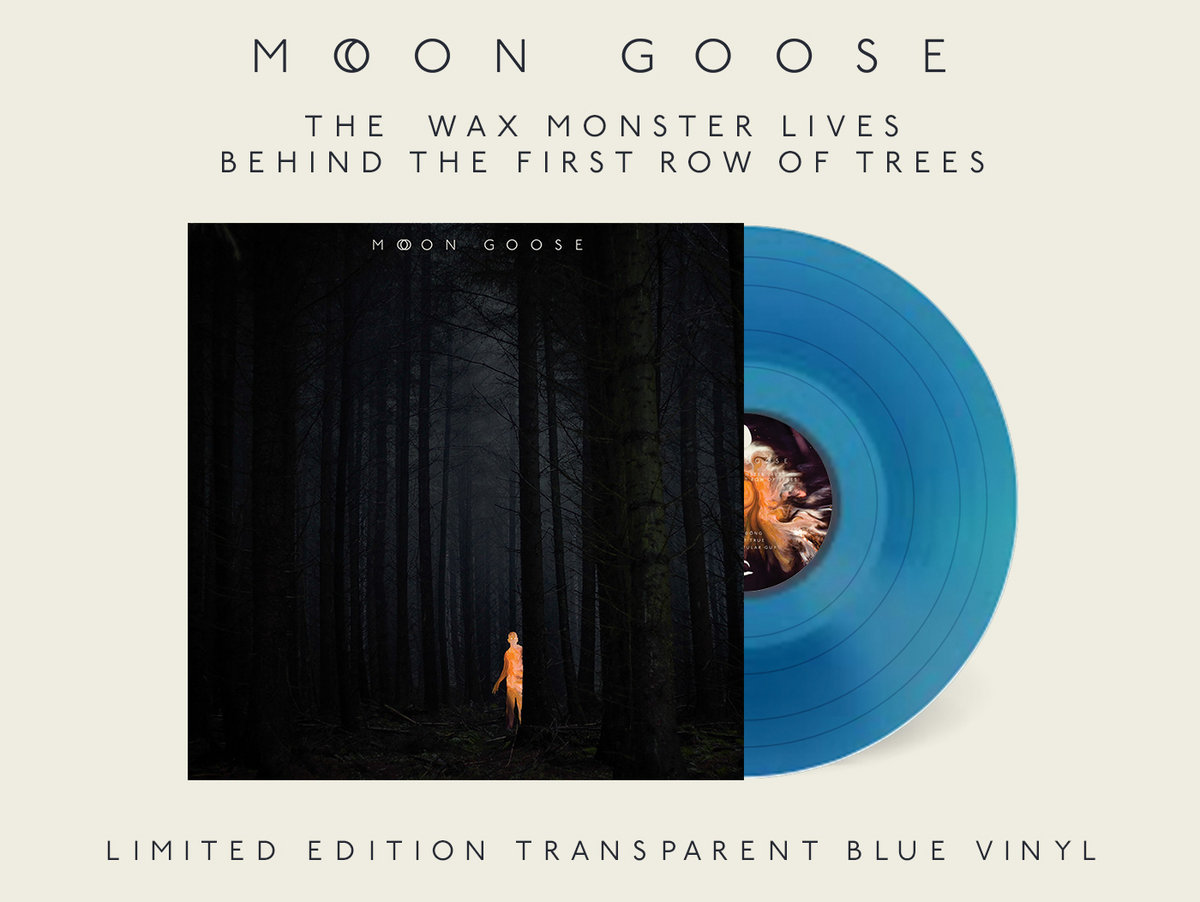 The limited edition Orange Vinyl (300, with a bonus Live Cd Greetings from Cardigan) has sold out so we're going for a transparent Blue second pressing, to be released on 25th February 2021, already available for presale on Bandcamp.
Published by Moon Goose and Fruits de Mer Records.
All tracks written and performed by Moon Goose,
except it ain't true, written by Faine Jade.
recorded by Ryan Jordan at AR Studios.
Produced and mastered by Leon Johnson.
Additional mastering by Fran Ashcroft.
Photos by Joel Filipe and Rosie Fraser.
Artwork by Lapin Blanc.
*** Attention: Moon Goose's second Studio Release Available for Human Enjoyment.
Hay-on-Wye, August 2020: Area band Moon Goose has only gone and squeezed out, between the cracks of lockdown, another musical collection. The Wax Monster Lives Behind the First Row of Trees (TWMLBTFROT) occupies a liminal space between EP and album, comprising five full tracks and four micro-tracks which are short enough to be used to TikTok videos.
Full of secret communications, the record is best understood as a piece of bricolage held together by a childhood ghost, manifesting in such diverse places as a Vietnamese Banknote and an imaginary cave on the Iowa border.
The music can be enjoyed quite loud, fairly late in the day, accompanied by a human sundae machine if available, on board a fungal transport if possible.
NOTES TO EDITORS: The Wax Monster Lives Behind the First Row of Trees is available on Limited Edition Orange Vinyl, bundled with a live CD taken from Moon Goose's set at the 17th Dream of Dr. Sardonicus Festival in Cardigan in 2019, when we could still embrace one another. It is co-published with Fruits de Mer Records and is also available for digital download at http://moongoosecult.bandcamp.com/
Ends***
2019- Source Code
Our debut album Source Code has been released on 30th April 2019 on Limited Edition Double Vinyl (+ CD) through Fruits de Mer Records.
The original pressing of 550 of double LP clear & white vinyl (cd included) sold out on the day of release. We've since pressed more vinyl (black this time) and got some nice digipaks too.
2018- Live at the Globe
Recorded live in our hometown of Hay-on-Wye, Wales, Live at the Globe delivers a live version of a selection of tracks from our first EP and first album. The subtle production of the studio is here replaced by the raw madness of the live show for a visual and audio experience out of the ordinary.
2017- Space Probe Shut Down
Space Probe Shut Down is the perfect introduction to the weird universe of Moon Goose. 3 tracks for more than 20 minutes of strange Space Rock mixed with a hint of Psychedelia and a strange smell of Krautrock. The bird spread its wings in the barn and flapped loudly to generate those shockwaves.