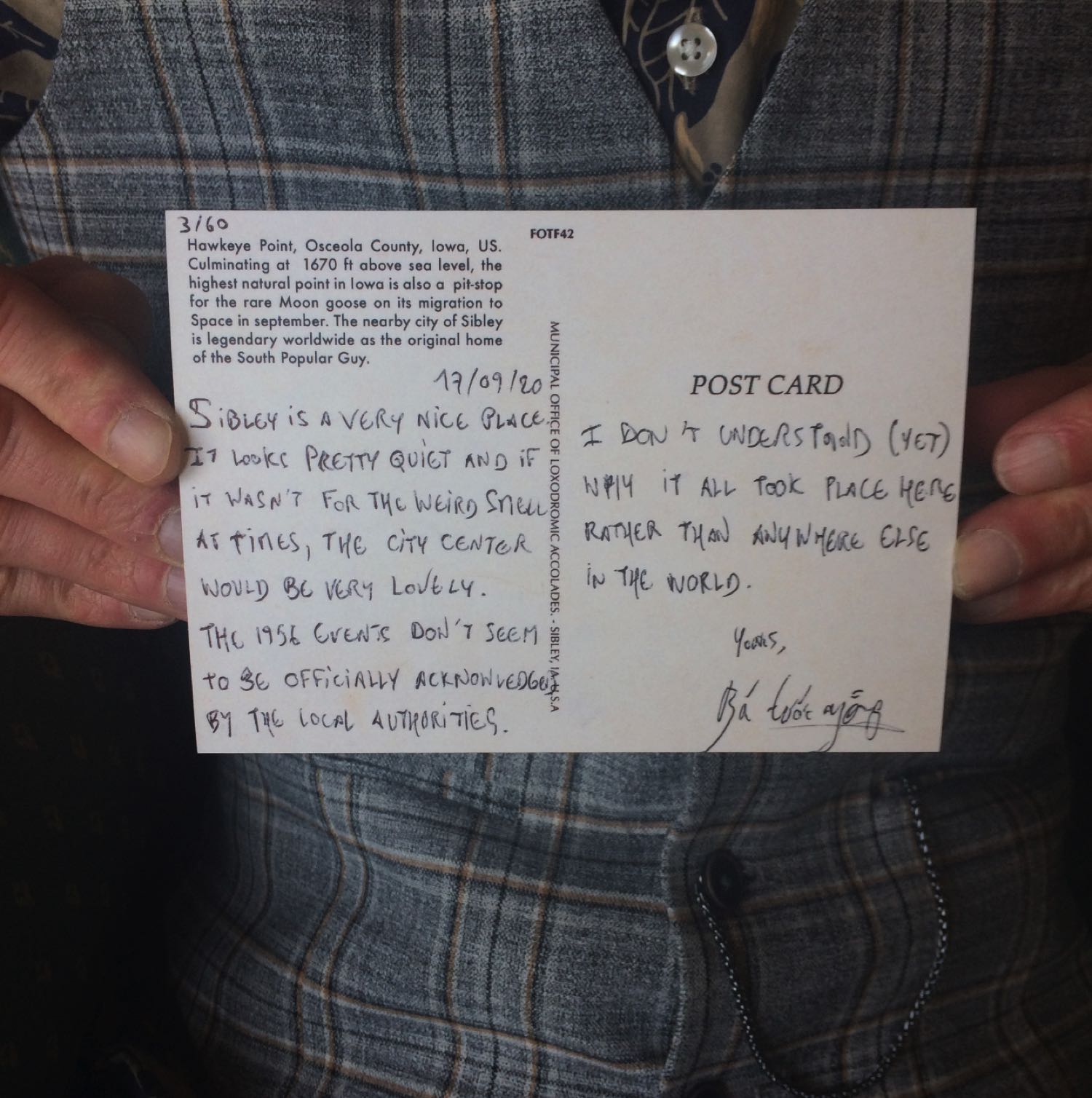 3
Date sent: 17/09/20
Date found: 28/04/21
Sibley is a very nice place. It looks pretty quiet and if it wasn't for the weird smell at times, the city center would be very lovely. The 1956 events don't seem to be officially acknowledged by the local authorities. I don't understand why it all took place here rather than anywhere else in the world.
Bá tước ngỗng
Found by Fabrice Luraine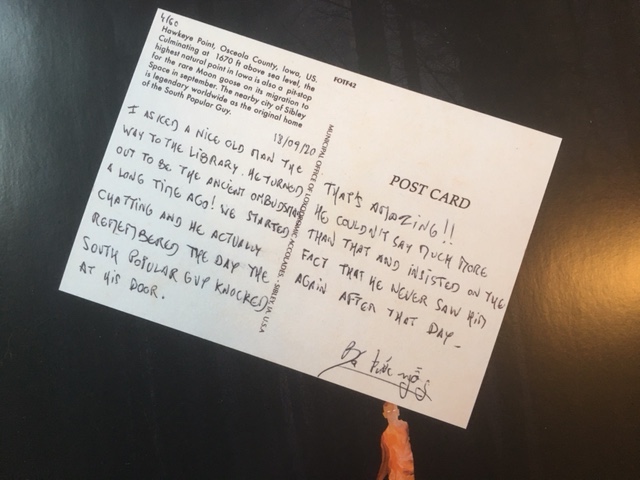 4
Date sent: 18/09/20
Date found: 15/04/21
I asked a nice old man the way to the library. He turned out to be the ancient ombudsman, a long time ago! We started chatting and he actually remembered the day the South Popular Guy knocked at his door. That's amazing! He couldn't say much more than that and insisted on the fact that he never saw him again after that day.
Bá tước ngỗng
Found by Andrew Roker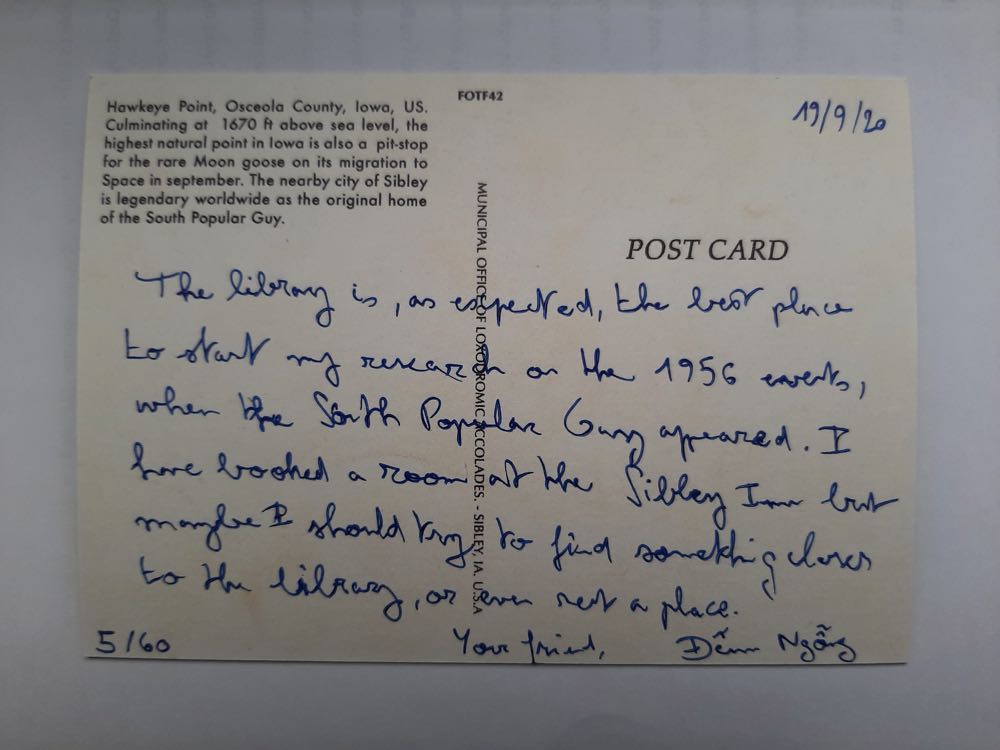 5
Date sent: 19/09/20
Date found: 08/03/21
The library is, as expected, the best way to start my research on the 1956 events when the first South Popular Guy appeared. I have booked a room at the Sibley Inn but maybe I should try to find something closer to the library, or even rent a place.
Bá tước ngỗng
Found by Paul Cox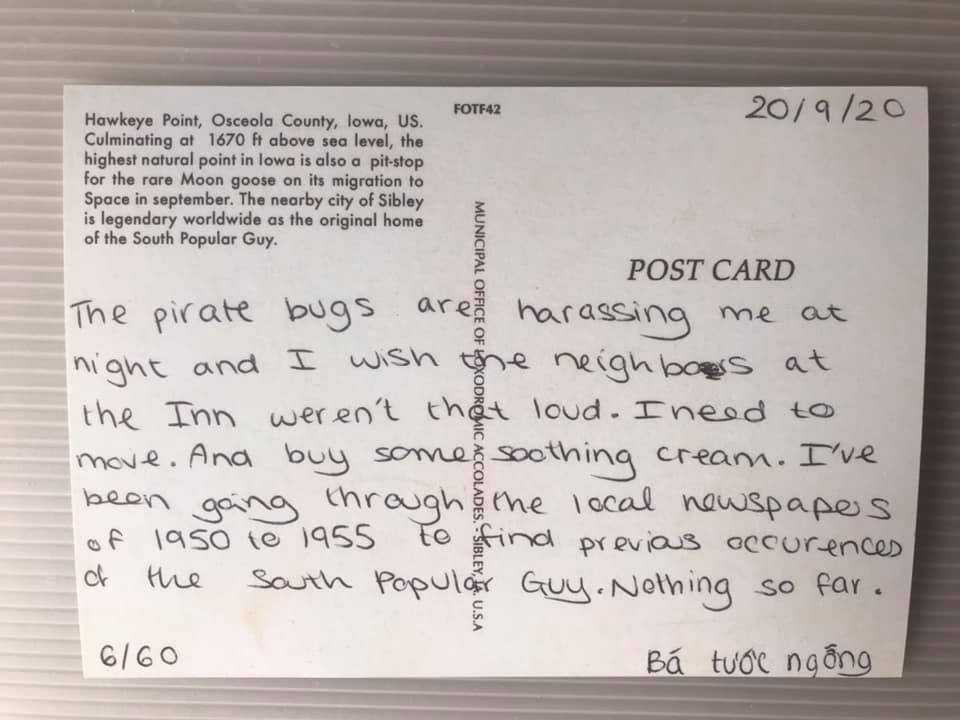 6
Date sent: 20/09/20
Date found: 08/03/21
The pirate bugs are harassing me at night and I wish the neighbors at the Inn weren't that loud. I need to move. And buy some soothing cream. I've been going through the local newspapers of 1950 to 1955 to find previous occurrences of the South Popular Guy. Nothing so far.
Bá tước ngỗng
Found by Steve Smith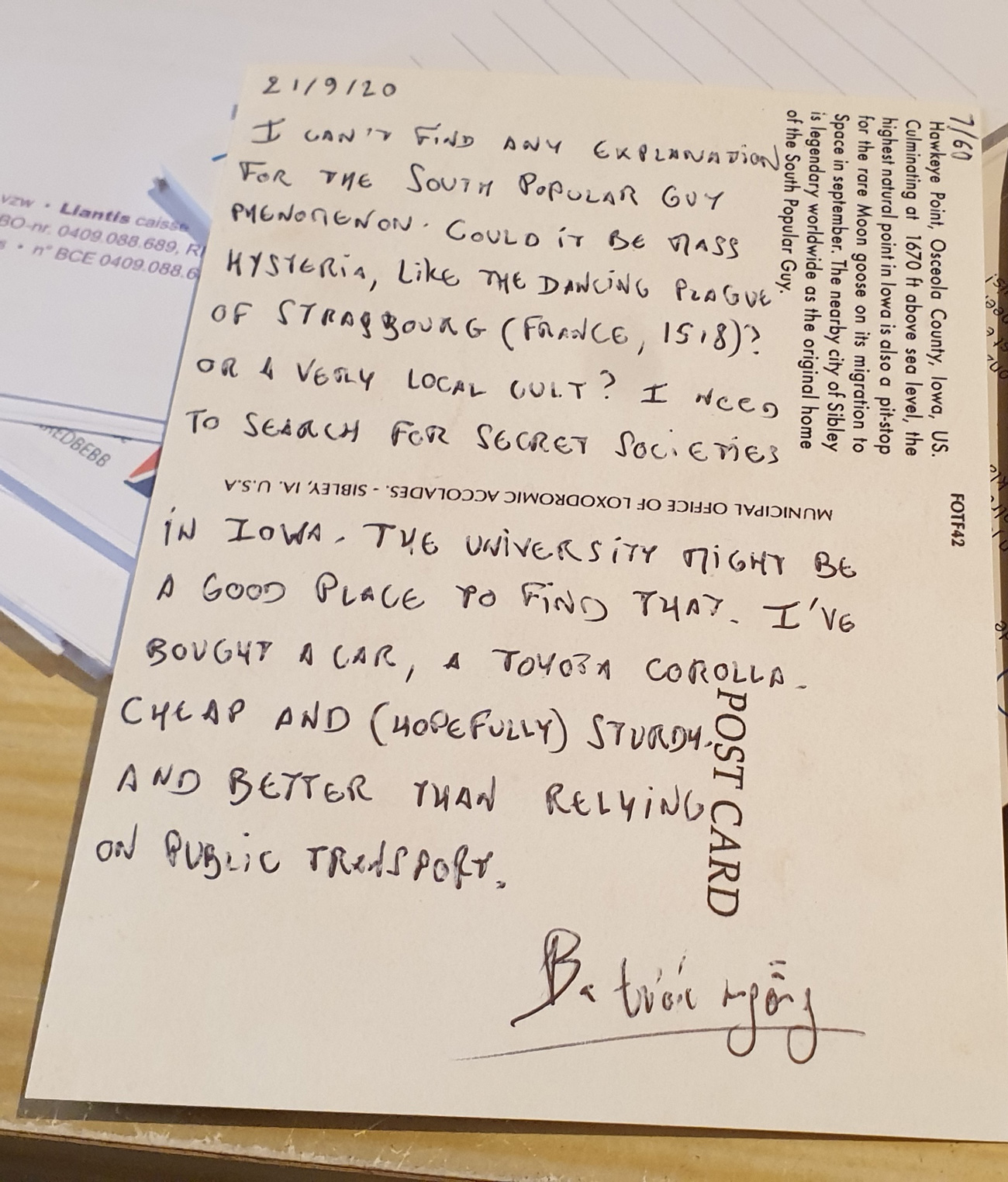 7
Date sent: 21/09/20
Date found: 22/04/21
I can't find any explanation for the South Popular Guy phenomenon. Could it be mass hysteria, like the dancing plague of Strasbourg (France, 1518)? Or a very local cult? I need to search for secret societies in Iowa. The University might be a good place to find that. I've bought a car, a Toyota Corolla. Cheap and (hopefully) sturdy. And better than relying on public transport.
Bá tước ngỗng
Found by Guido Sterk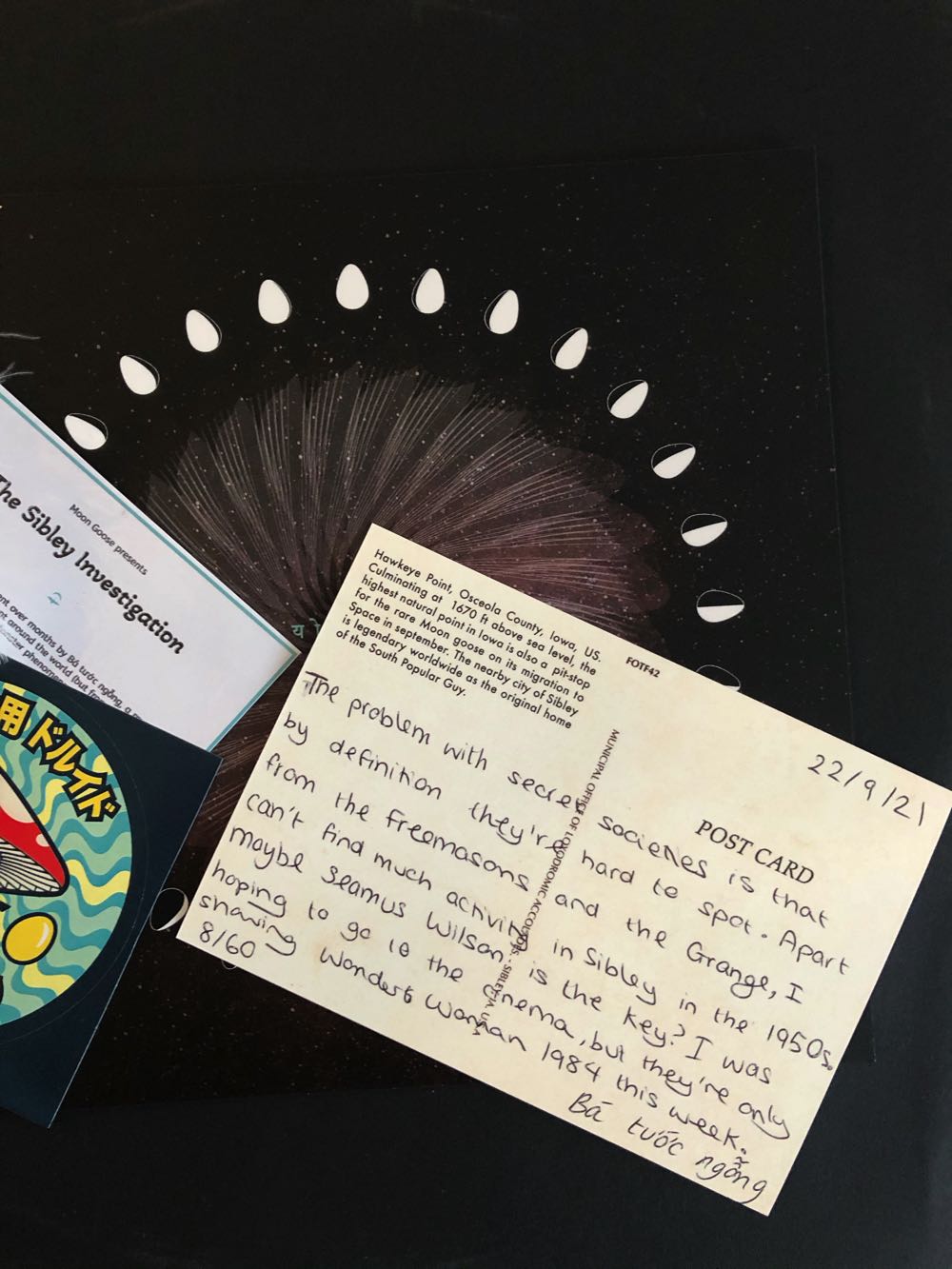 8
Date sent: 22/09/20
Date found: 08/03/21
The problem with secret societies is that by definition they're hard to spot. Apart from the Freemasons and the Grange, I can't find much activity in Sibley in the 1950s. Maybe Seamus Wilson is the key? I was hoping to go to the cinema, but they're only showing Wonder Woman 1984 this week.
Bá tước ngỗng
Found by Andrew Tutton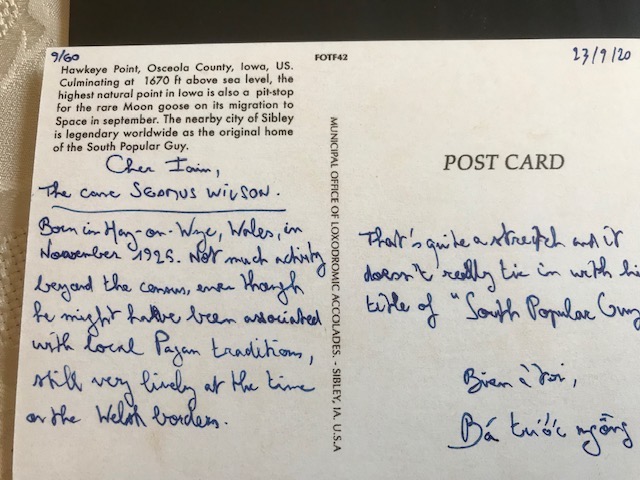 9
Date sent: 23/09/20
Date found: 13/04/21
The case Seamus Wilson. Born in Hay-on-Wye, in Wales in november 1925. Not much activity beyond the census, even though he might have been associated with local Pagan traditions, still very lively at the time on the Welsh borders. That's quite a stretch and it doesn't really tie in with his title of South Popular Guy.
Bá tước ngỗng
Found by Iain Norris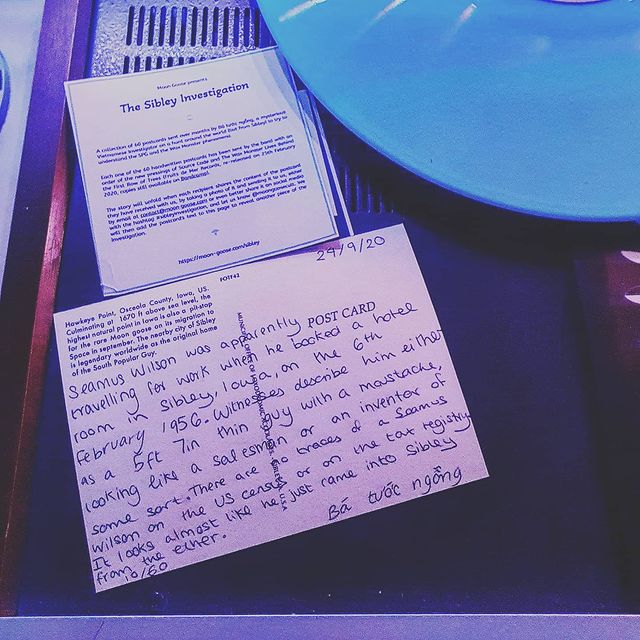 10
Date sent: 24/09/20
Date found: 24/03/21
Seamus Wilson was apparently traveling for work when he booked a hotel room in Sibley, Iowa, on the 6th February 1956. Witnesses describe him either as a 5ft 7in thin guy with a moustache, looking like a salesman or an inventor of some sort. There are no traces of a Seamus Wilson on the US Census or on the tax registry. It looks almost like he just came in Sibley from the ether.
Bá tước ngỗng
Found by Lars from Outta Space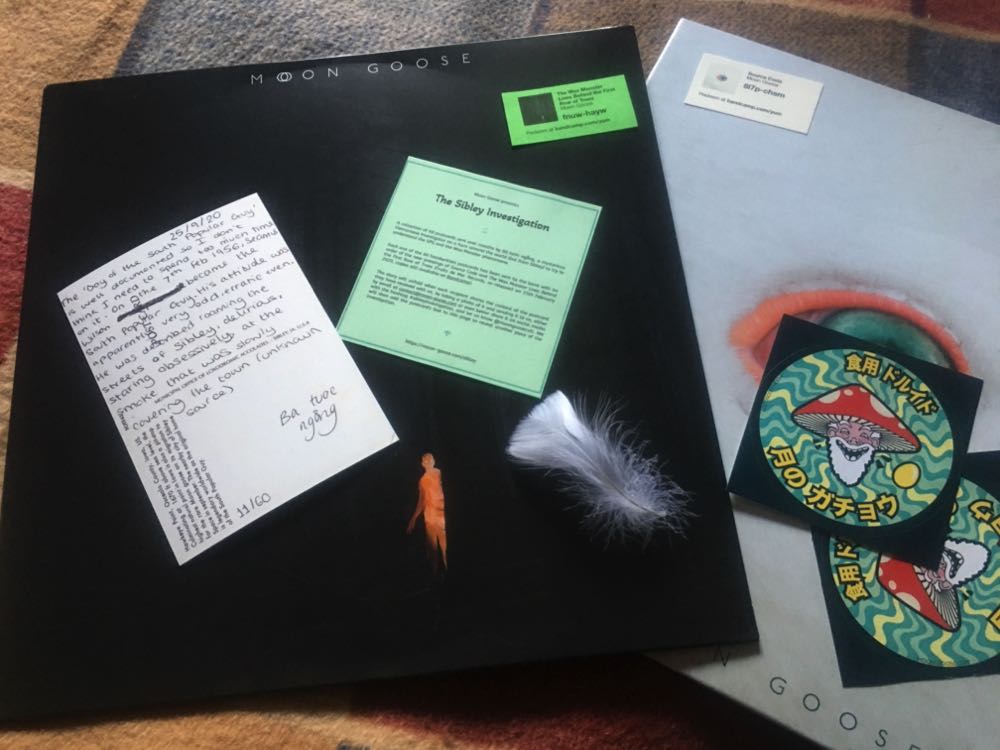 11
Date sent: 25/09/20
Date found: 11/03/21
The "Day of the South Popular Guy" is well documented so I don't think I need to spend too much time on it. On the 7th February 1956, Seamus Wilson became The South Popular Guy. His attitude was apparently very odd, erratic even. He was described roaming the streets of Sibley, delirious, staring obsessively at the smoke that was slowly covering the town (unknown source).
Bá tước ngỗng
Found by Kevin Bolton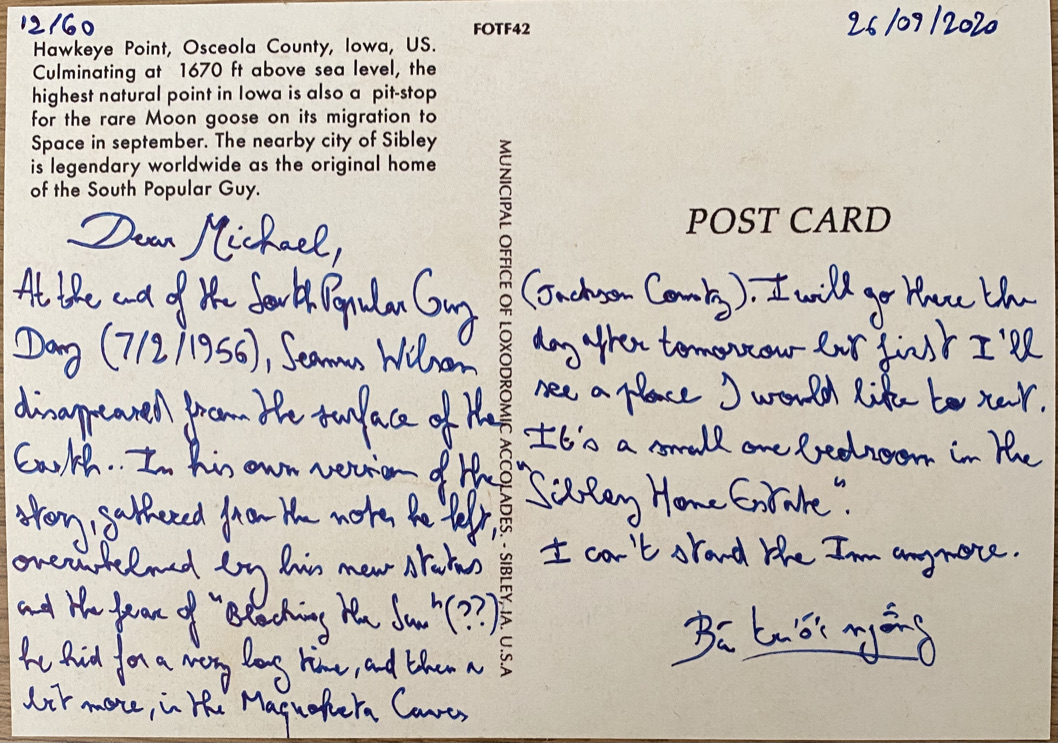 12
Date sent: 26/09/20
Date found: 05/04/21
At the end of the South Popular Guy Day (7/2/56), Seamus Wilson disappeared from the surface of the Earth. In his own version of the story, gathered from the notes he left, overwhelmed by his new status and the fear of "blocking the Sun"(??) he hid for a very long time, and then a bit more, in the Maquoketa Caves (Jackson County). I will go there the day after tomorrow but first I'll see a place I would like to rent. It's a small one bedroom in the Sibley Home Estate. I can't stand the Inn anymore.
Bá tước ngỗng
Found by Michael Neethling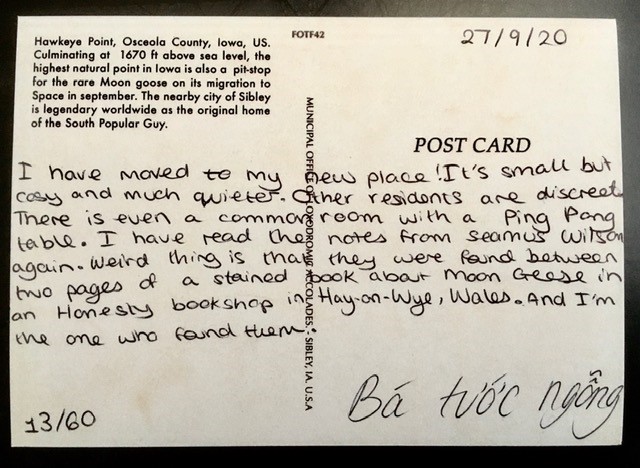 13
Date sent: 27/09/20
Date found: 12/03/21
I have moved to my new place! It's small but cosy and much quieter. Other residents are discreet. There even is a common room with a Ping Pong table. I have read the notes from Seamus Wilson again. Weird thing is that they were found between two pages of a stained book about Moon Geese in an honesty bookshop in Hay-on-Wye, Wales. And I'm the one who found them.
Bá tước ngỗng
Found by Keith Jones from
Fruits de Mer records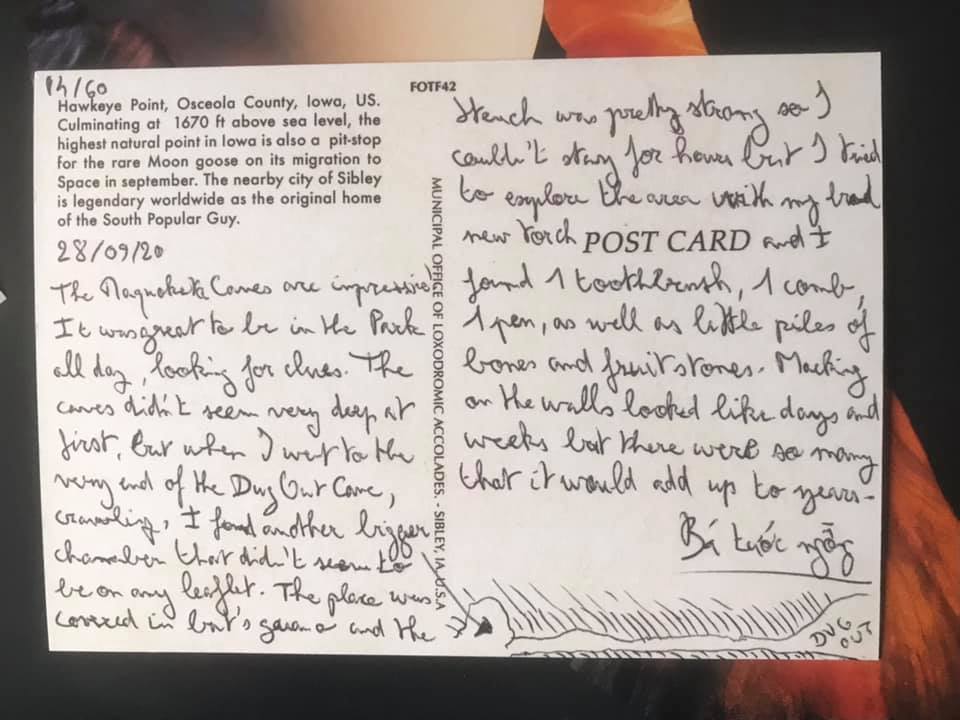 14
Date sent: 28/09/20
Date found: 10/04/21
The Maquoketa Caves are impressive. It was great to be in the Park all day, looking for clues. The caves didn't seem very deep at first, but I went to the very end of the Dug Out cave, crawling, and found another bigger chamber that didn't seem to be on any leaflet. The place was covered in bats' guano and the stench was pretty strong so I couldn't stay for hours but I tried to explore the area with my brand new torch and I have found a toothbrush, a comb and a pen, as well as little piles of bones and fruit stones. Marking on the walls looked like days and weeks but there were so many that it would add up to years.
Bá tước ngỗng
Found by Steve Smith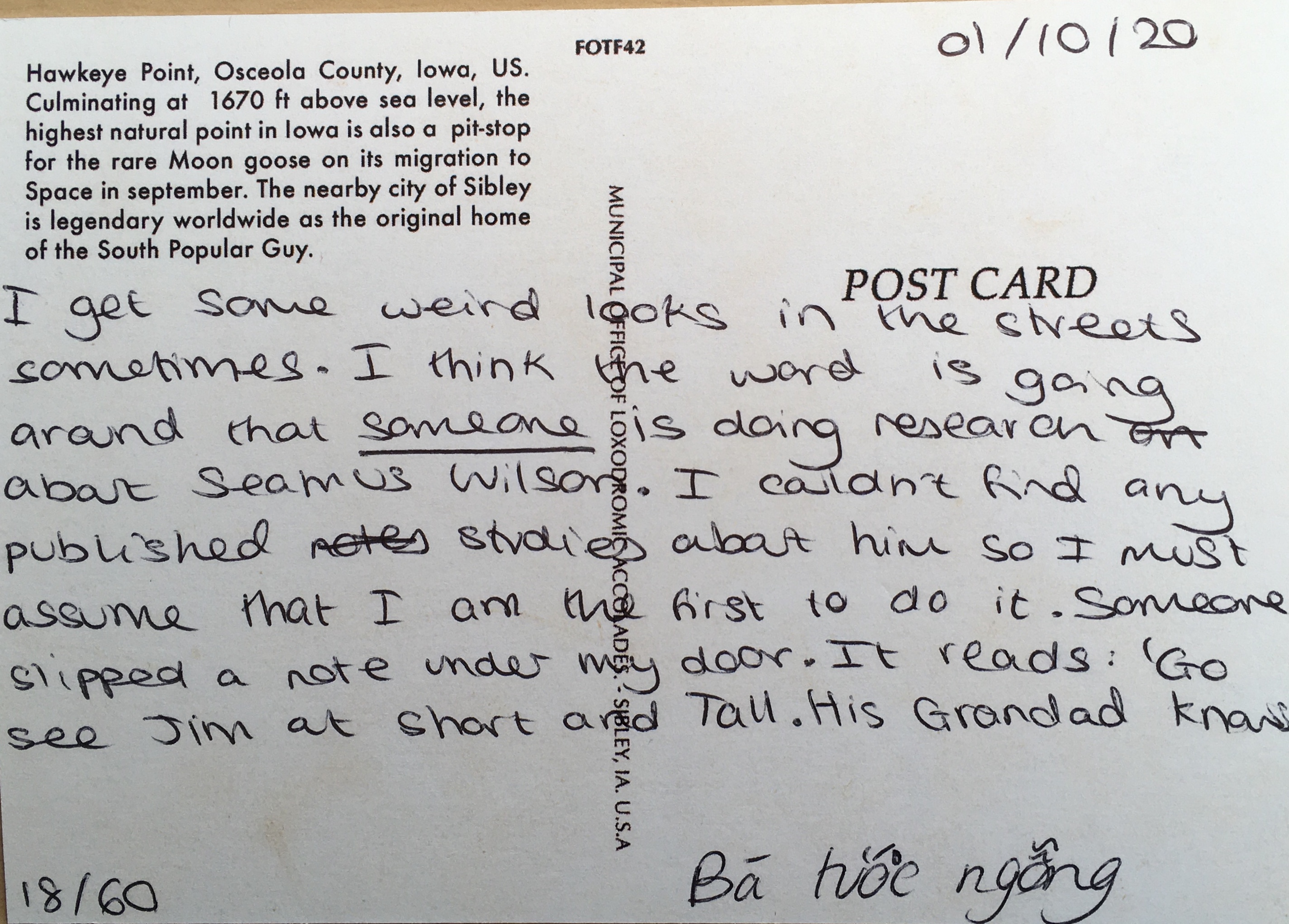 18
Date sent: 01/10/20
Date found: 12/03/21
I get some weird looks in the street sometimes. I think the word is going around that someone is doing research about Seamus Wilson. I couldn't find any published studies about him so I must assume that I am the first to do it. Someone slipped a note under my door. It reads: "Go see Jim at Short and Tall. His Grandad knows."
Bá tước ngỗng
Found by Andrew Storror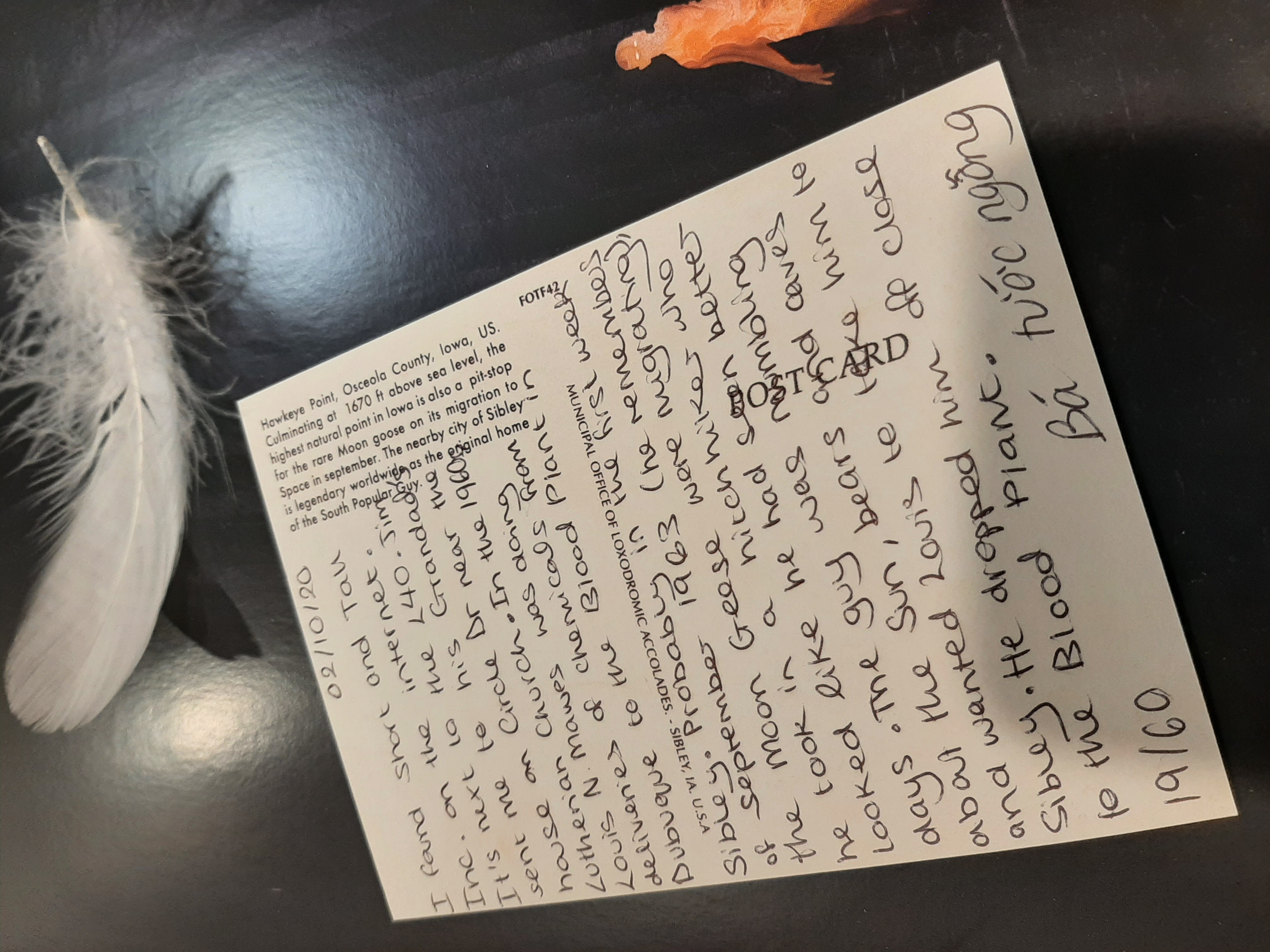 19
Date sent: 02/10/20
Date found: 29/03/21
I found Short and Tall Inc. on the internet. It's next to the L40. Jim sent me to his Grandad house on Circle Dr near the Lutherian church. in the 1960s, Louis N. Mawes was doing deliveries of chemicals from Dubuque to the Blood Plant in Sibley. Probably in the first week of September 1963 (he remembers the Moon Geese were migrating), he took in a hitchhiker who looked like he had seen better days. The guy was mumbling about the Sun, bears and caves and wanted Louis to take him to Sibley. He dropped him off close to the Blood Plant.
Bá tước ngỗng
Found by Ray Halse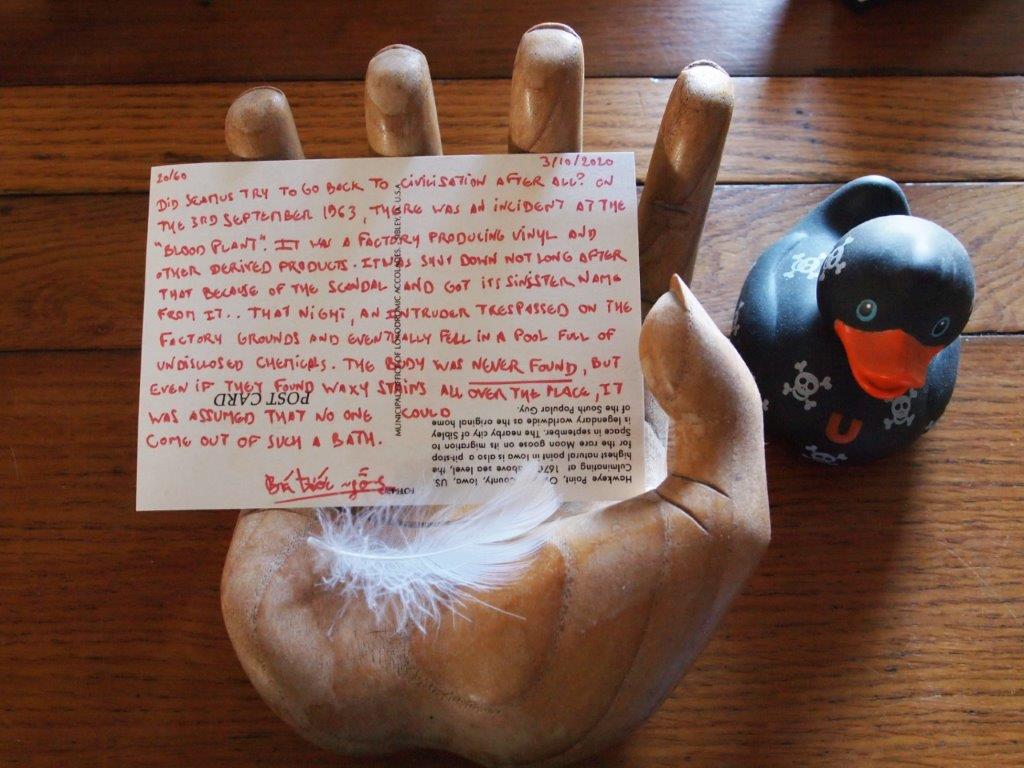 20
Date sent: 03/10/20
Date found: 06/04/20
Did Seamus try to go back to civilisation after all? On the 3rd September 1963, there was an incident at the "Blood Plant". It was a factory producing vinyl and other derived plastic products. It was shut down not long after that because of the scandal and got its sinister name from it. That night an intruder trespassed on the factory grounds and eventually fell in a pool full of undisclosed chemicals. The body was never found, but even if they found waxy stains all over the place, it was assumed that no one could come out of such a bath.
Bá tước ngỗng
Found by Alan Schofield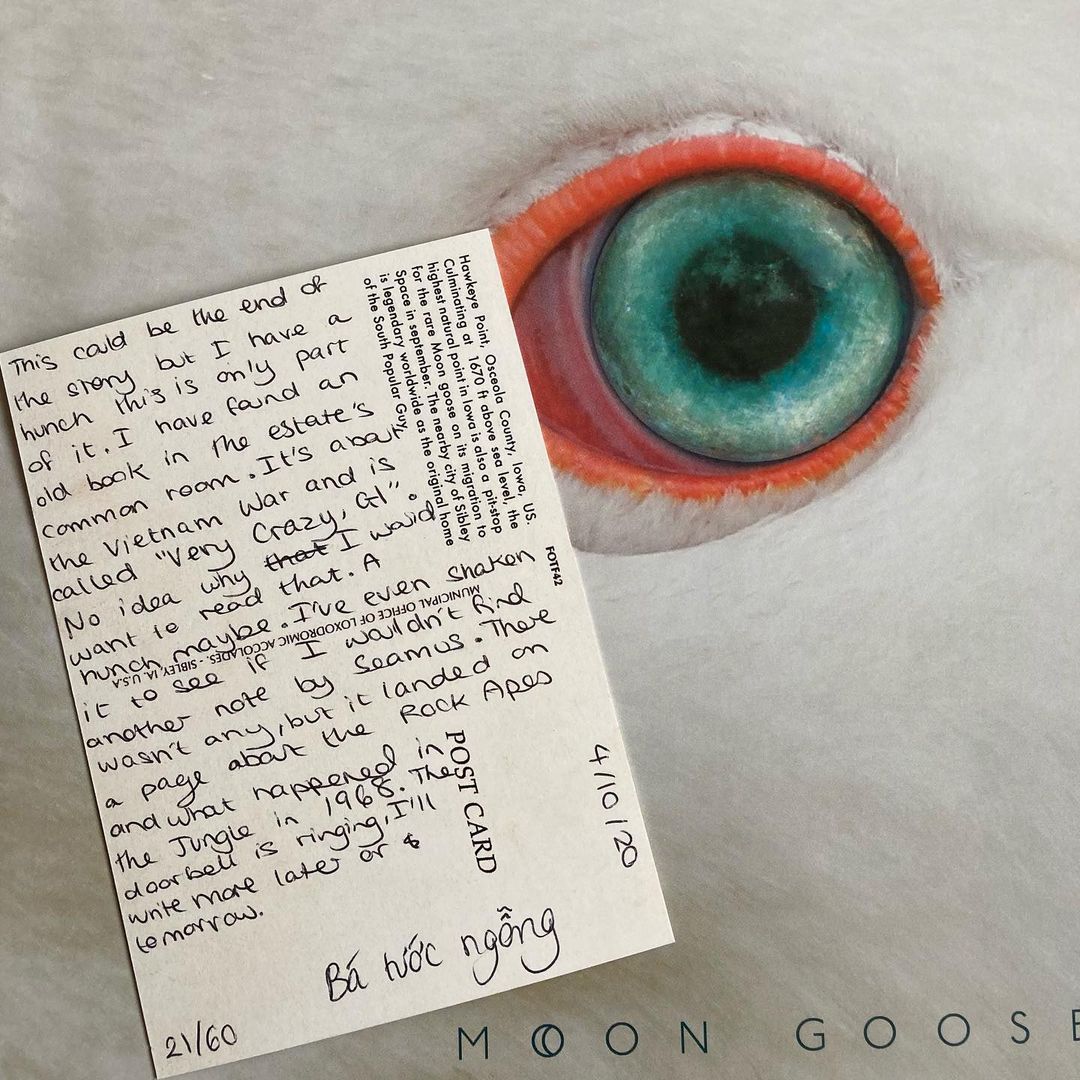 21
Date sent: 04/10/20
Date found: 08/03/21
This could be the end of the story but I have a hunch this is only part of it. I have found an old book in the estate's common room. It's about the Vietnam War and is called "Very Crazy, GI". No idea why I would want to read that. A hunch maybe. I've even shaken it to see if I wouldn't find another note by Seamus. There wasn't any, but it landed on a page about the Rock Apes and what happened in the Jungle in 1968. The doorbell is ringing, I'll write more later or tomorrow.
Bá tước ngỗng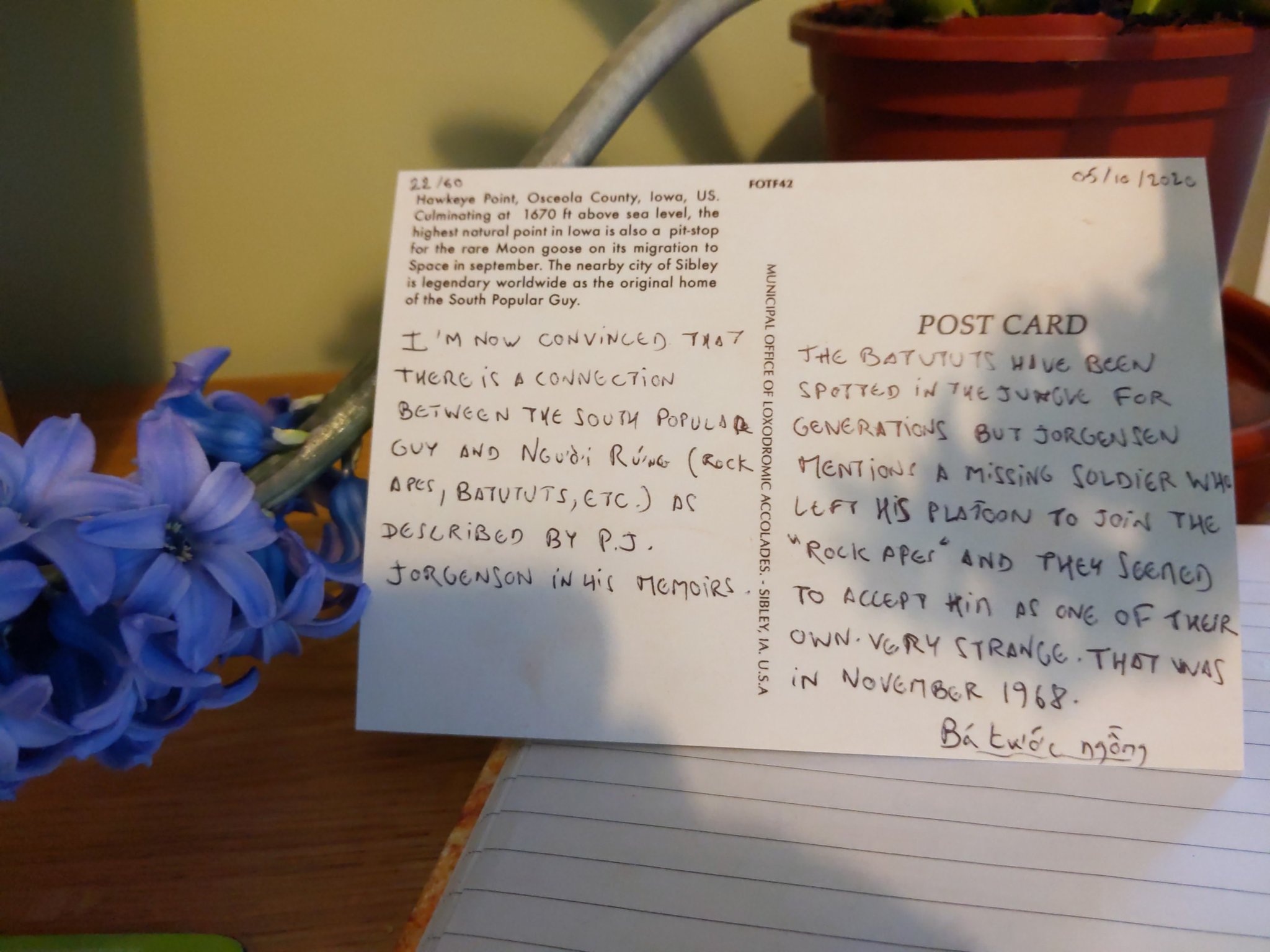 22
Date sent: 05/10/20
Date found: 10/03/21
I'm now convinced that there is a connection between The South Popular Guy and Người Rừng (Rock Apes, Batututs, etc.) as described by P. J. Jorgenson in his memoirs. The Batututs have been spotted in the jungle for generations but Jorgenson mentions a missing soldier who left his platoon to join the "rock apes" and they seemed to accept him as one of their own. Very strange. That was in November 1968.
Bá tước ngỗng
Found by Andy Thompson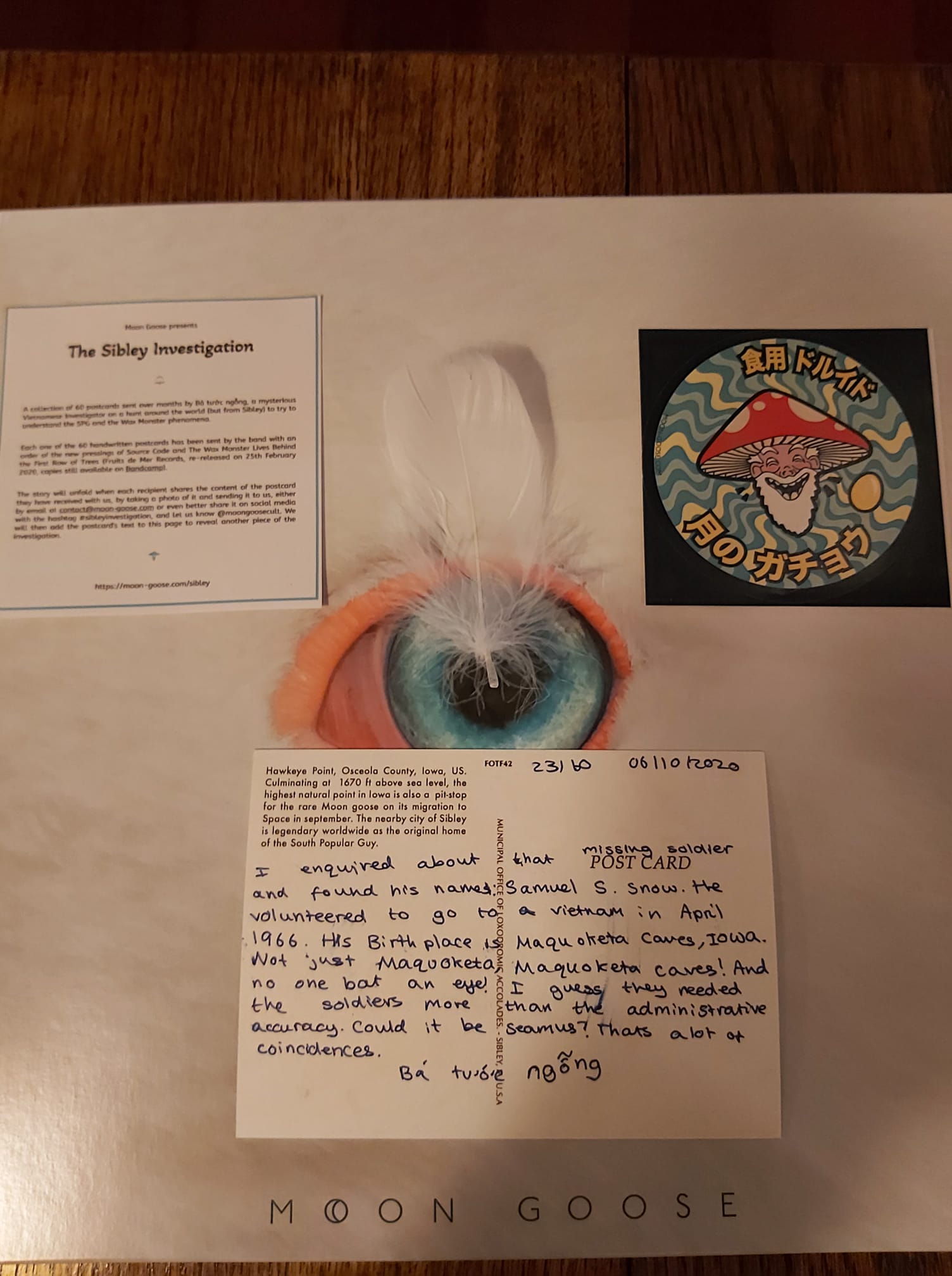 23
Date sent: 06/10/20
Date found: 13/03/21
I enquired about that missing soldier and found his name: Samuel S. Snow. He volunteered to go to Vietnam in April 1966. His birthplace is Maquoketa caves, Iowa. Not Just Maquoketa, but Maquoketa caves! And no one bat an eye! I guess they needed the soldiers more than the administrative accuracy. Could it be Seamus? That's a lot of coincidences.
Bá tước ngỗng
Found by Simon Scott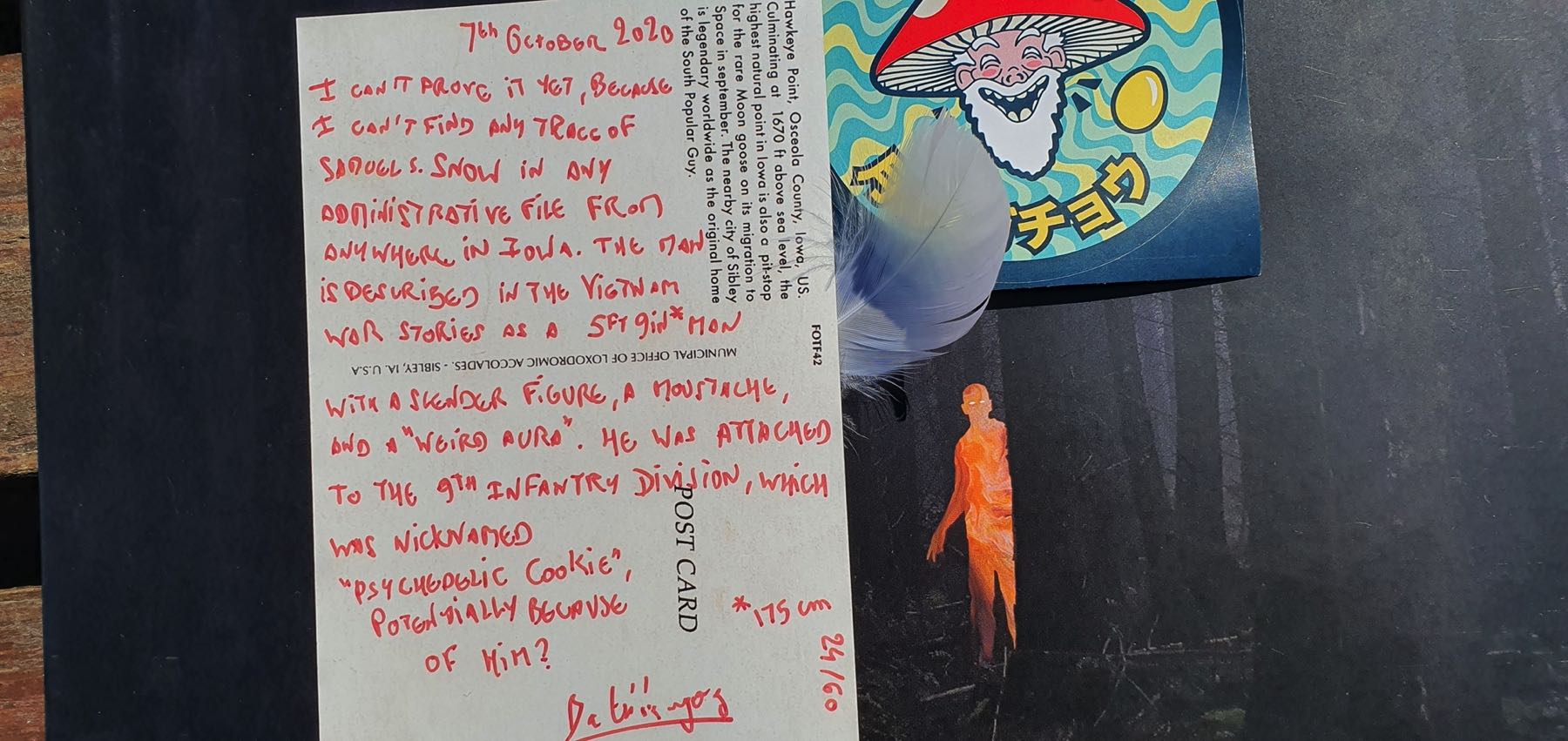 24
Date sent: 07/10/20
Date found: 19/04/21
I can't prove it yet, because I can't find any trace of Samuel S. Snow in any administrative file from anywhere in Iowa. The man is described in the Vietnam war stories as a 5ft 9in man with a slender figure, a moustache, and a weird aura. He was attached to the Ninth Infantry Division, which was nicknamed "Psychedelic Cookie" potentially because of him.
Bá tước ngỗng
Found by Roger Keys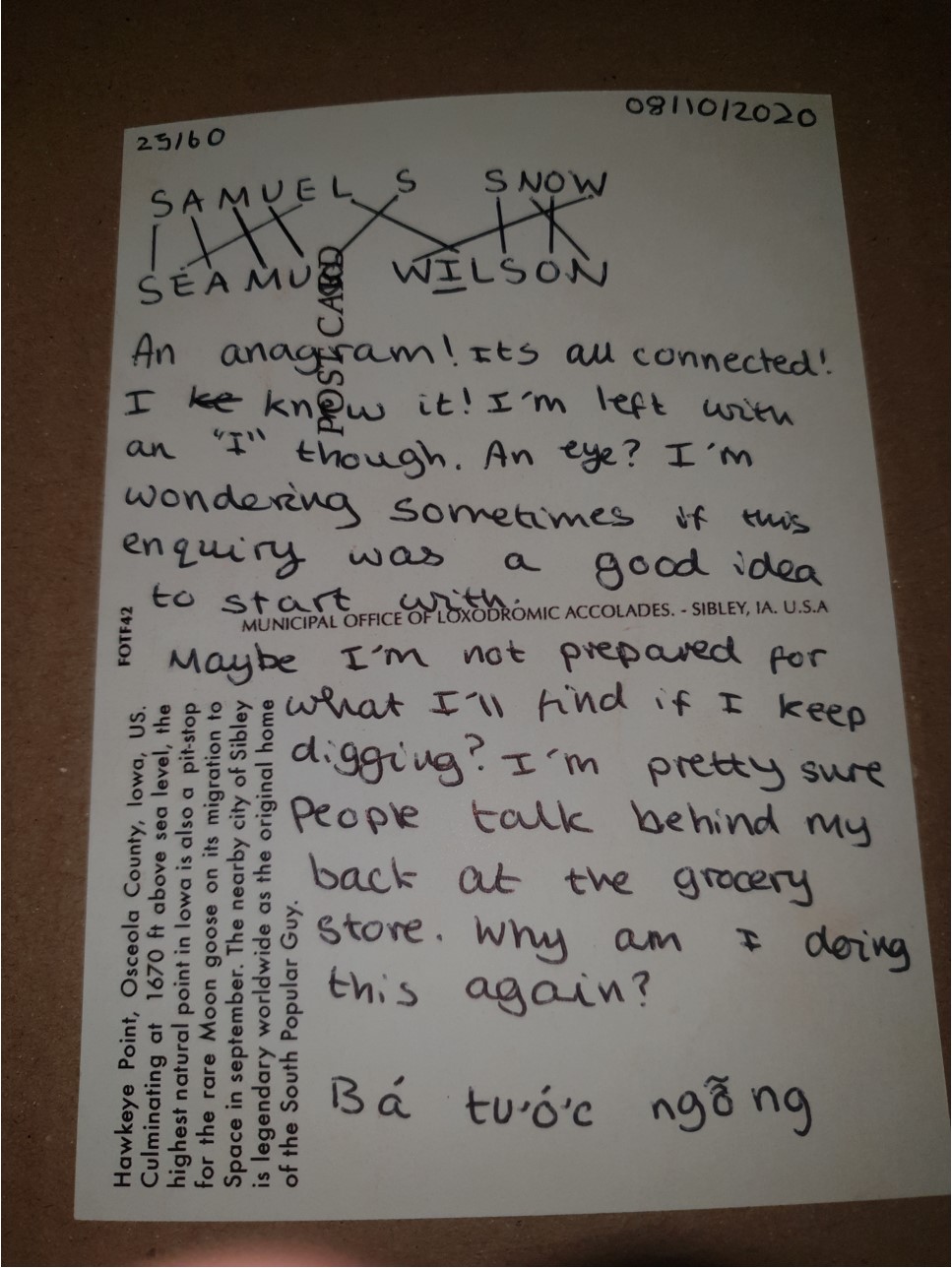 25
Date sent: 08/10/20
Date found: 16/03/21
SAMUEL S SNOW SEAMUS WILSON An anagram! It's all connected! I knew it! I'm left with an "I" though. An eye? I'm wondering sometimes if this enquiry was a good idea to start with. Maybe I'm not prepared for what I'll find if I keep digging. I'm pretty sure people talk behind my back at the grocery store. Why am I doing this again?
Bá tước ngỗng
Found by Jürgen Broich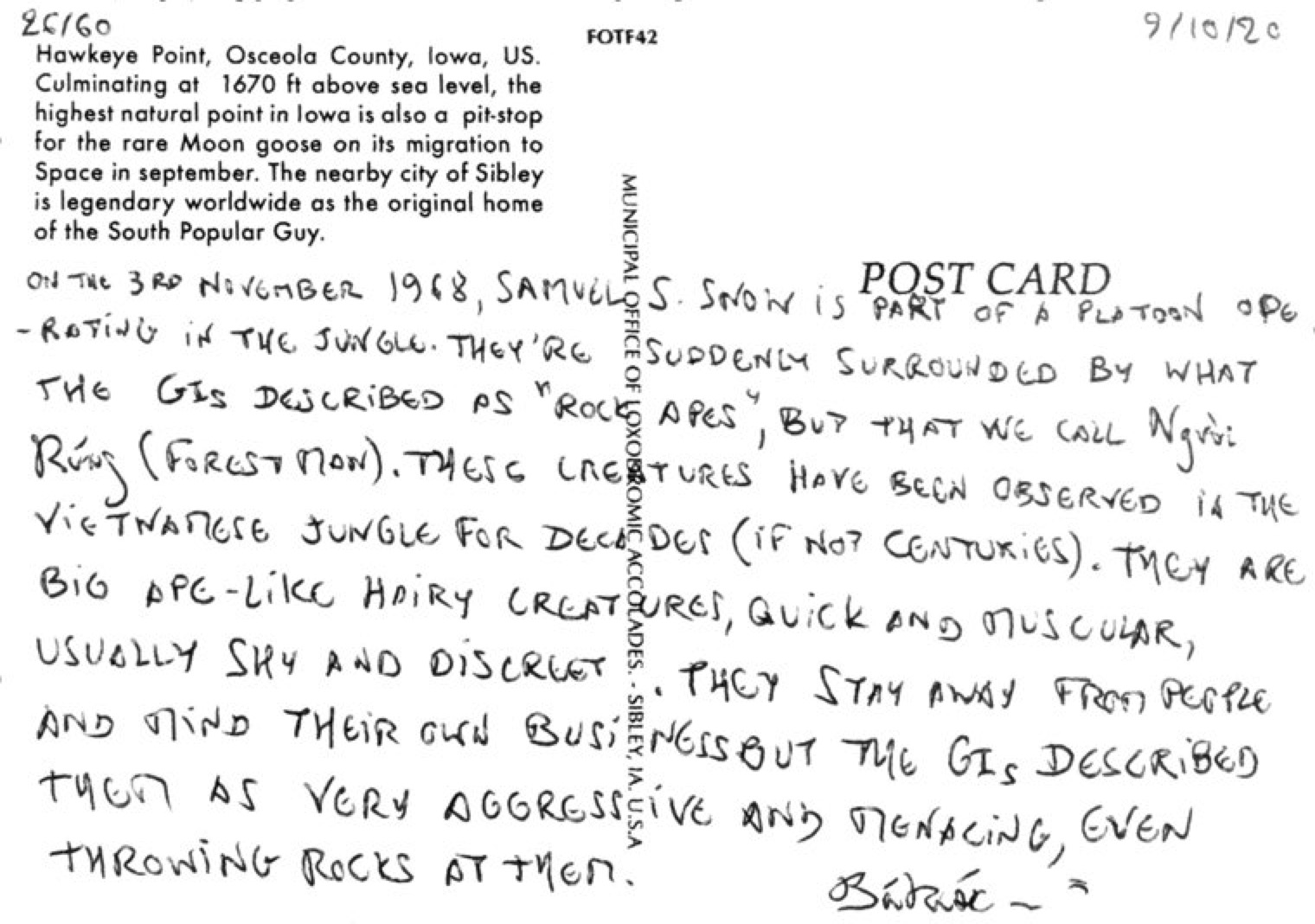 26
Date sent: 09/10/20
Date found: 03/04/21
On the 3rd November 1968, Samuel S. Snow is part of a platoon operating in the jungle. They're suddenly surrounded by what the GIs described as "Rock Apes", but that we call Người Rừng ("forest man"). These creatures have been observed in the Vietnamese jungle for decades (if not for centuries). They are big Ape-like hairy creatures, quick and muscular, usually shy and discreet. They stay away from people and mind their own business but the GIs described them as very aggressive and menacing, throwing rocks at them.
Bá tước ngỗng
Found by Andrew Storror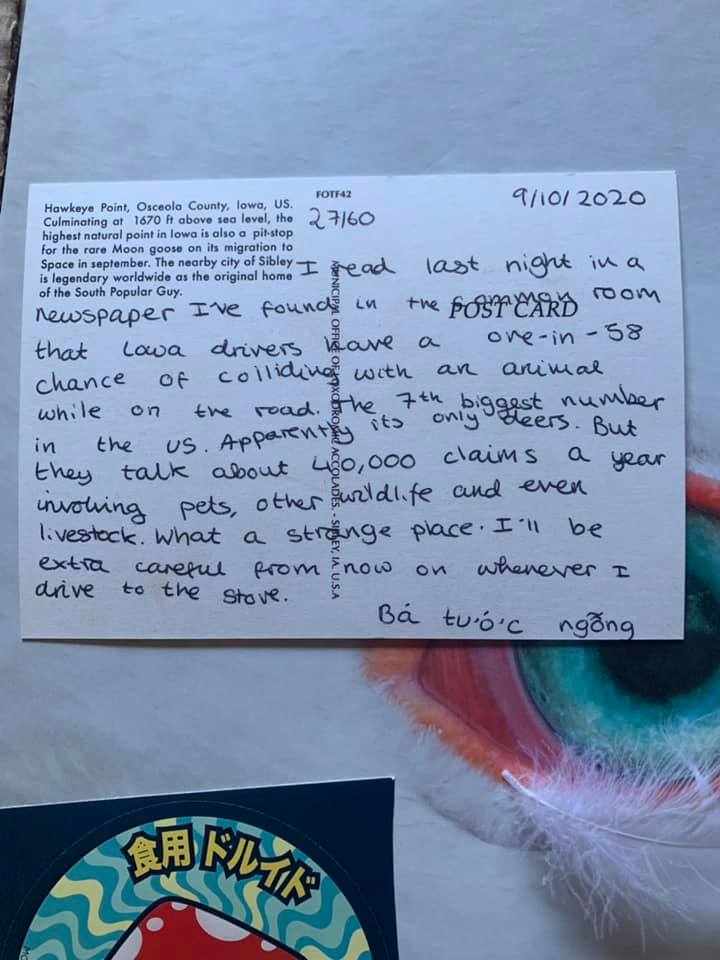 27
Date sent: 09/10/20
Date found: 08/03/21
I read last night in a newspaper I've found in the common room that Iowa drivers have a one-in-58 chance of colliding with an animal while on the road. The 7th bigger number in the US. Apparently it's mostly deers. But they talk about 40,000 claims a year involving pets, other wildlife and even livestock. What a strange place. I'll be extra careful from now on whenever I drive to the store.
Bá tước ngỗng
Found by Steve Coombs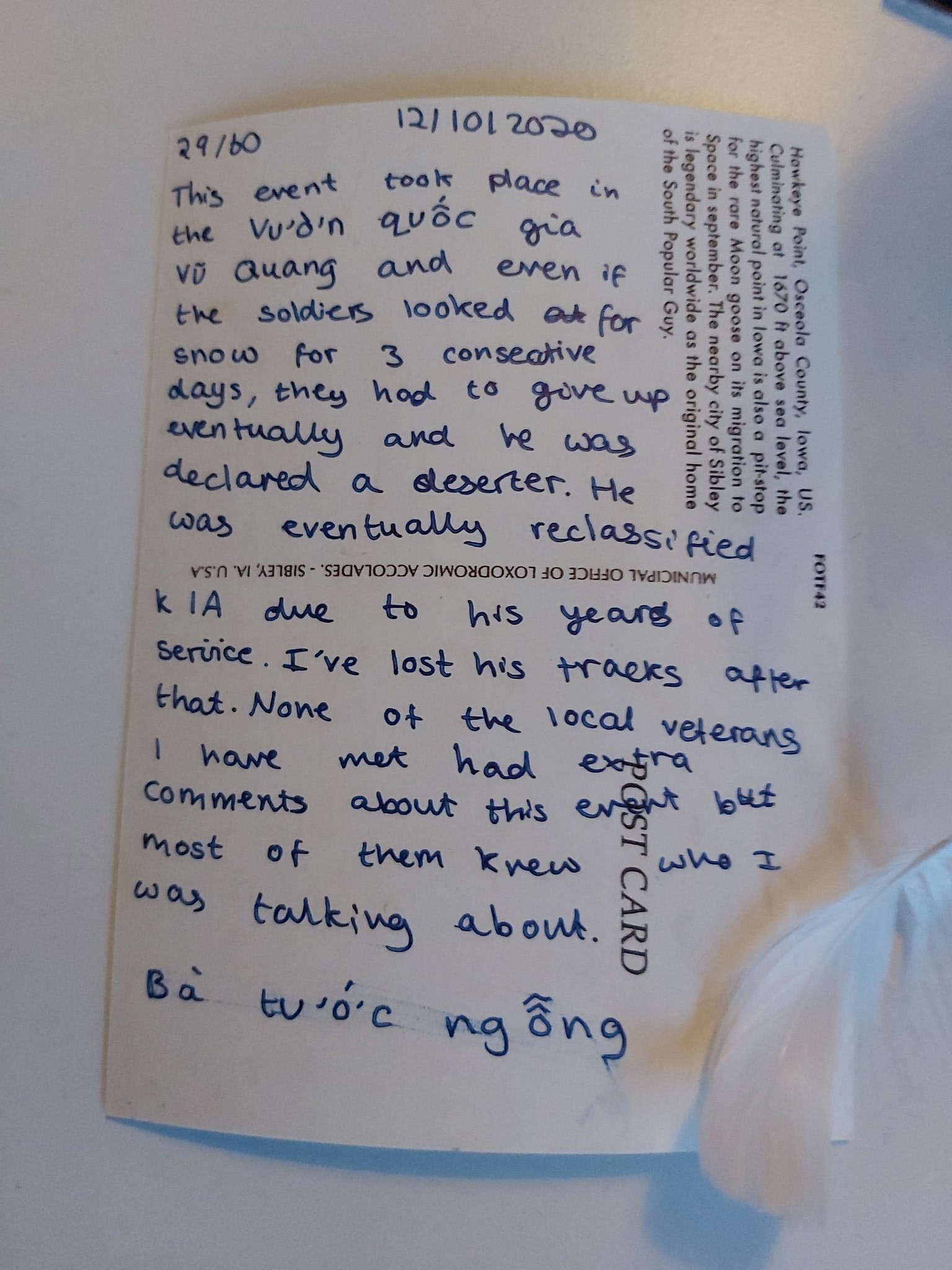 29
Date sent: 12/10/20
Date found: 09/03/21
This event took place in the Vườn quốc gia Vũ Quang and even if the other soldiers looked for Snow for 3 consecutive days, they had to give up eventually and he was declared a deserter. He was eventually reclassified KIA due to his years of service. I've lost his tracks after that. None of the local veterans I have met had extra comments about the event but most of them knew who I was talking about.
Bá tước ngỗng
Found by Keith Illustrious of
Reveals Vinyls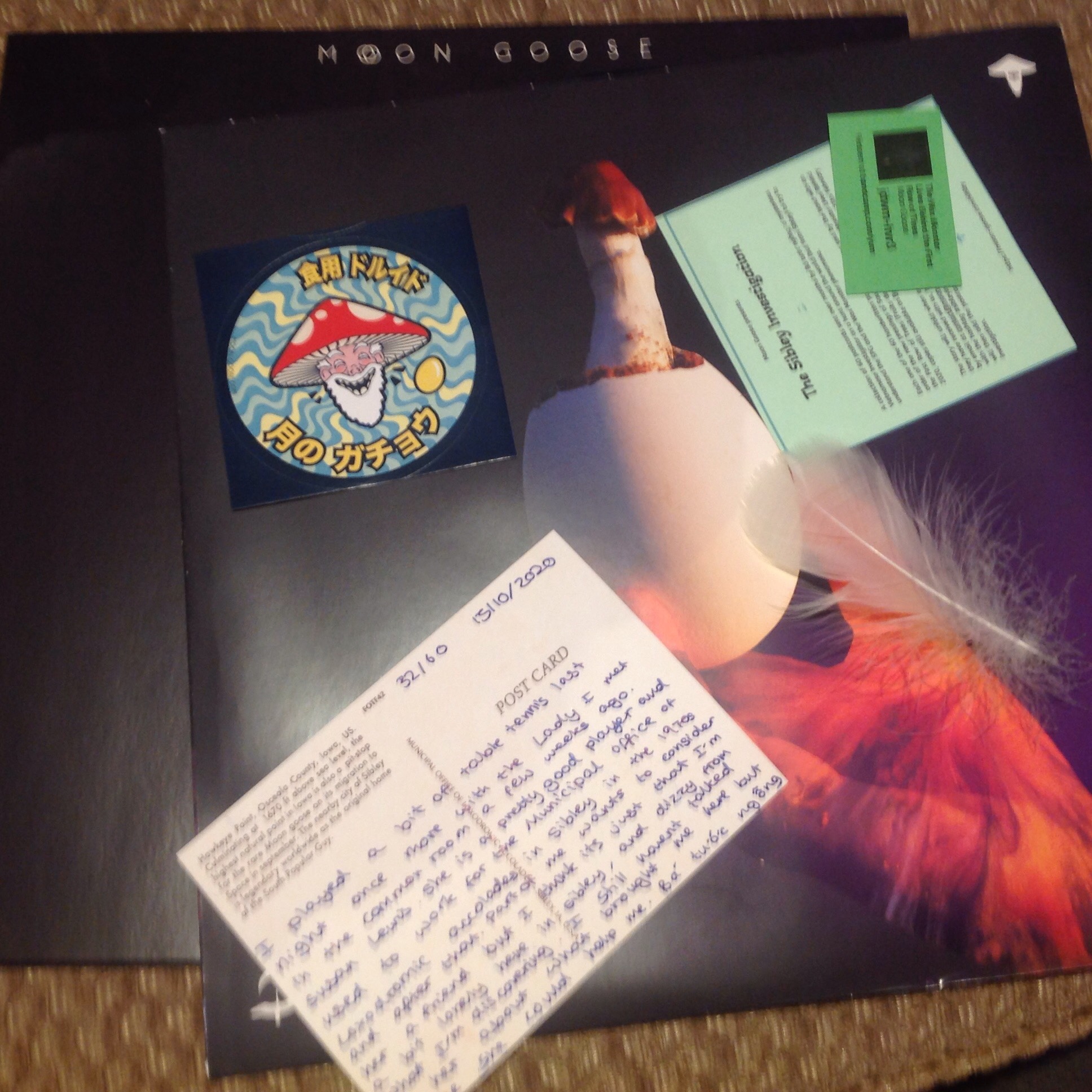 32
Date sent: 15/10/20
Date found: 10/03/21
I played a bit of table tennis last night once more with that lady I met in the common room a few weeks ago. Susan Lewis. She is a pretty good player and used to work for the Municipal Office of Loxodromic Accolades in Sibley in the 1970s and after that. Part of me wants to consider her a friend but I think it's just that I'm a bit lonely here in Sibley, and dizzy from what I'm discovering. I still haven't talked to her about what brought me here but maybe she could help me.
Bá tước ngỗng
Found by Simon M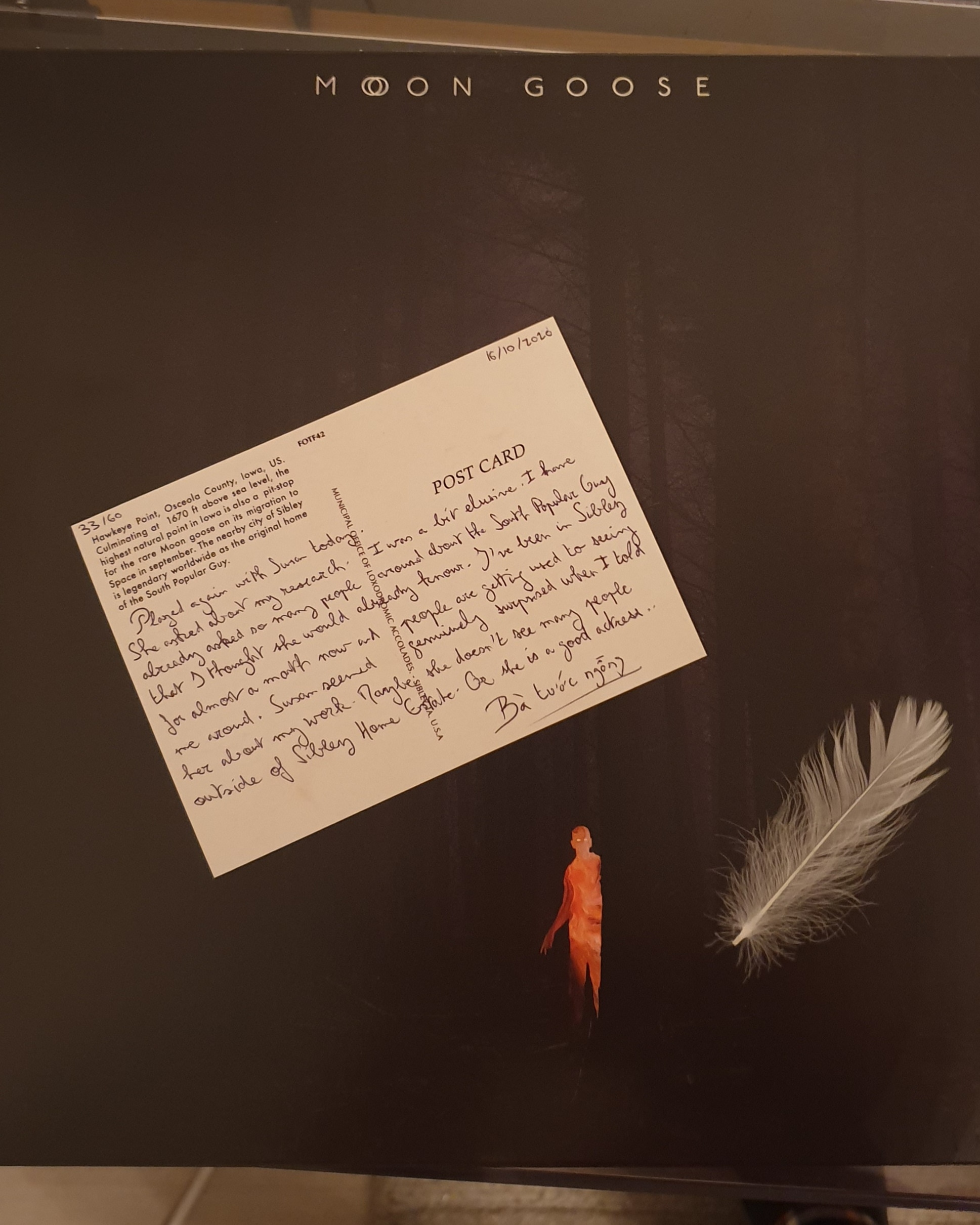 33
Date sent: 16/10/20
Date found: 09/03/21
Played again with Susan today. She asked me about my research. I was a bit elusive. I have already asked so many people around about the South Popular Guy that I thought she would already know. I've been in Sibley for almost a month now and people are getting used to seeing me around. Susan did seem genuinely surprised when I told her about my work. Maybe she doesn't see many people outside of Sibley Home estate. Or she is a good actress.
Bá tước ngỗng
Found by Simon Wordsworth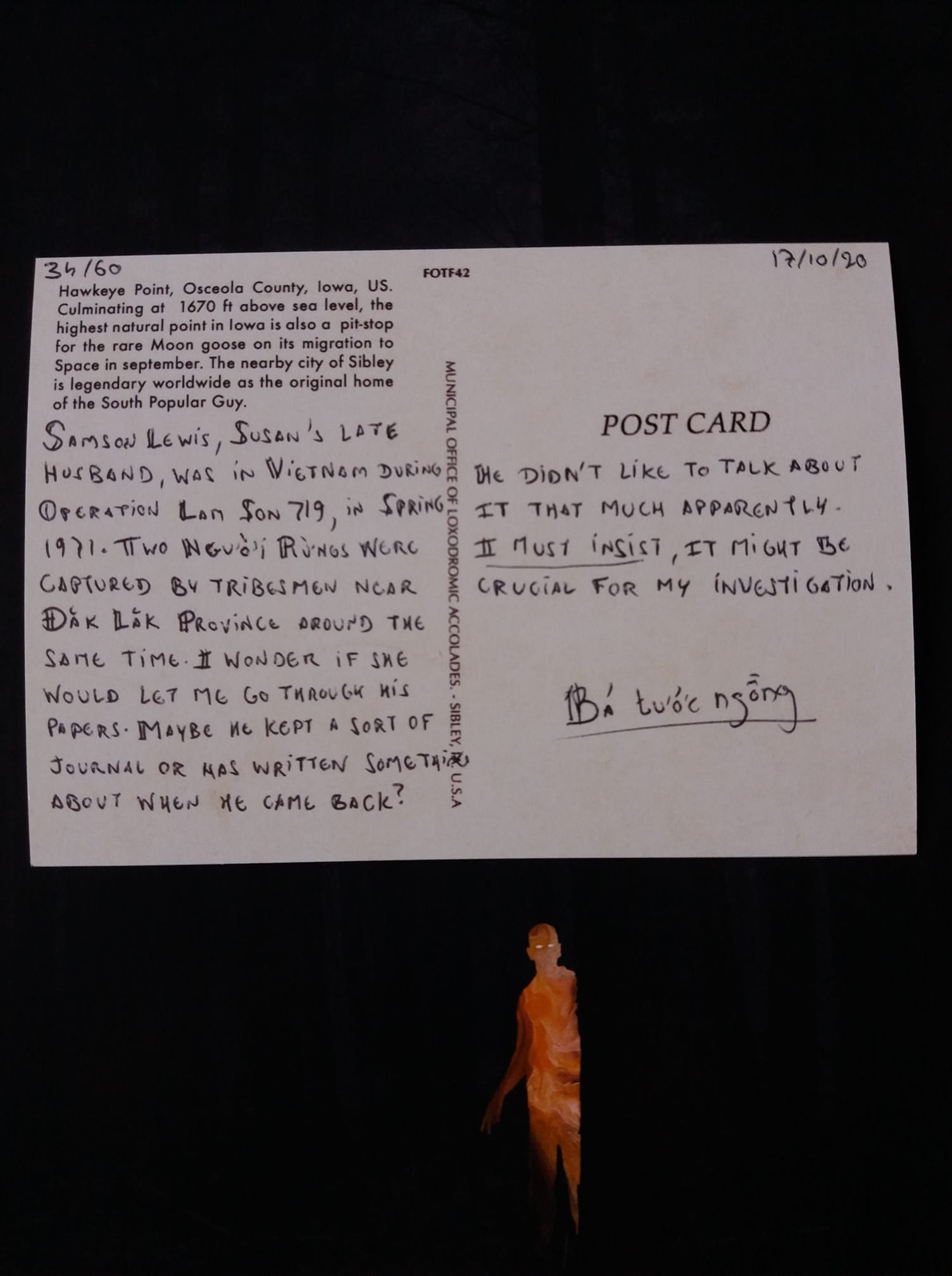 34
Date sent: 17/10/20
Date found: 13/03/21
Samson Lewis, Susan's late husband, was in Vietnam during Operation Lam Son 719, in Spring 1971. Two Người Rừngs were captured by tribesmen near Đắk Lắk Province around the same time. I wonder if she would let me go through his papers. Maybe he kept a sort of journal or has written something about it when he came back? He didn't like to talk about it that much apparently. I must insist, it might be crucial for my investigation.
Bá tước ngỗng
Found by Richard Robinson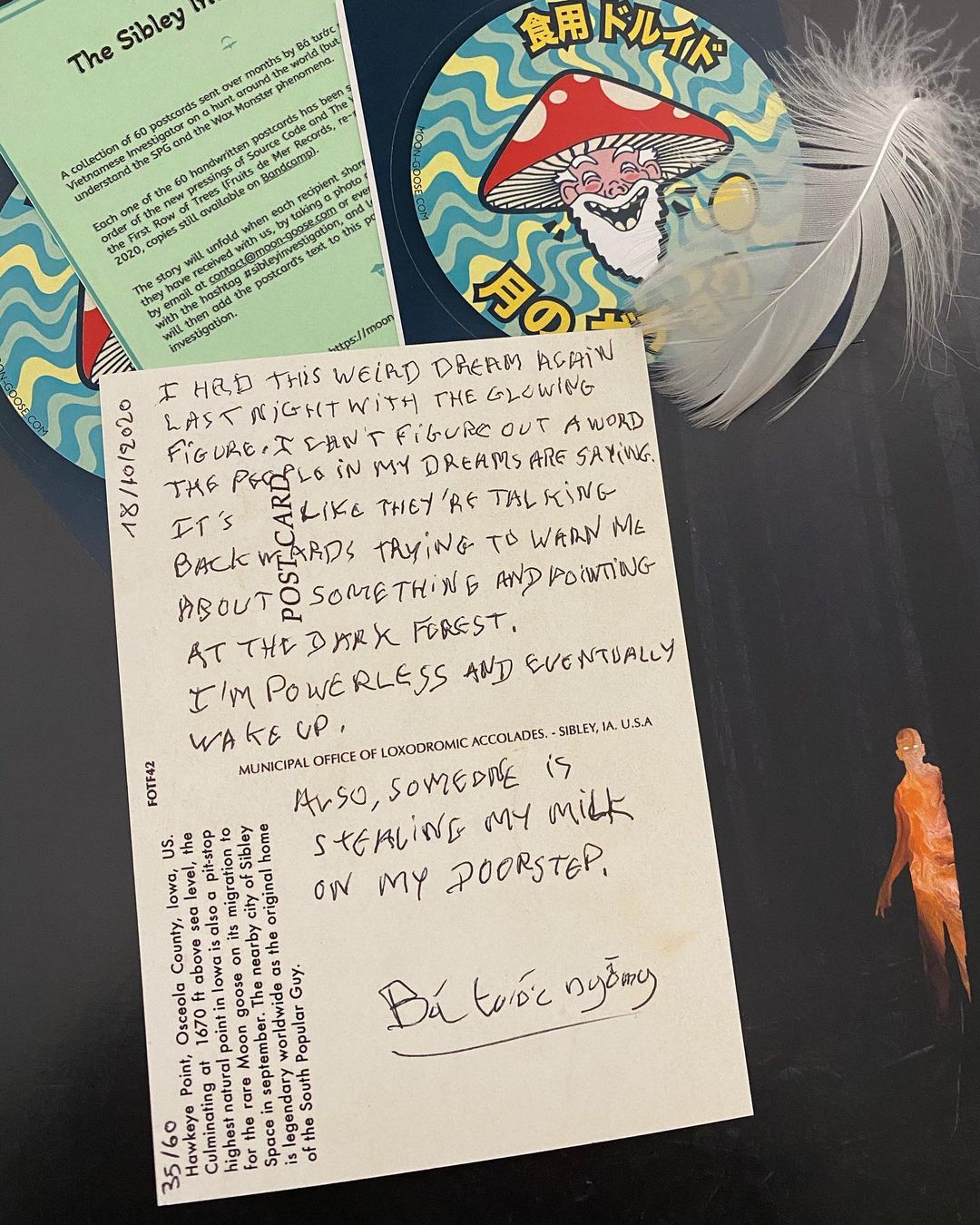 35
Date sent: 18/10/20
Date found: 10/03/21
I had this weird dream again last night with the glowing figure. I can't figure out a word the people in my dream are saying. It's like they're talking backwards trying to warn me about something and pointing at the dark forest. I'm powerless and eventually wake up. Also someone is stealing my milk on my doorstep.
Bá tước ngỗng
Found by Nick Waite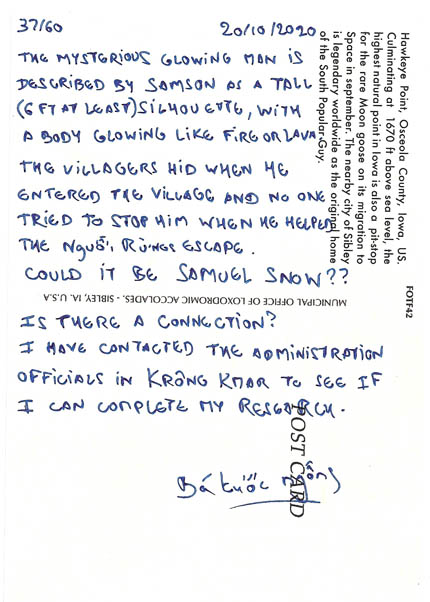 37
Date sent: 20/10/20
Date found: 21/03/21
The mysterious glowing man is described by Samson as a tall (6ft at least) silhouette, with a body glowing like fire or lava. The villagers hid when he entered the village and no one tried to stop him when he helped the Người Rừngs escape. Could it be Samuel Snow? Is there a connection? I have contacted the administration officials in Krông Kmar to see if I can complete my research.
Bá tước ngỗng
Found by Paul Connell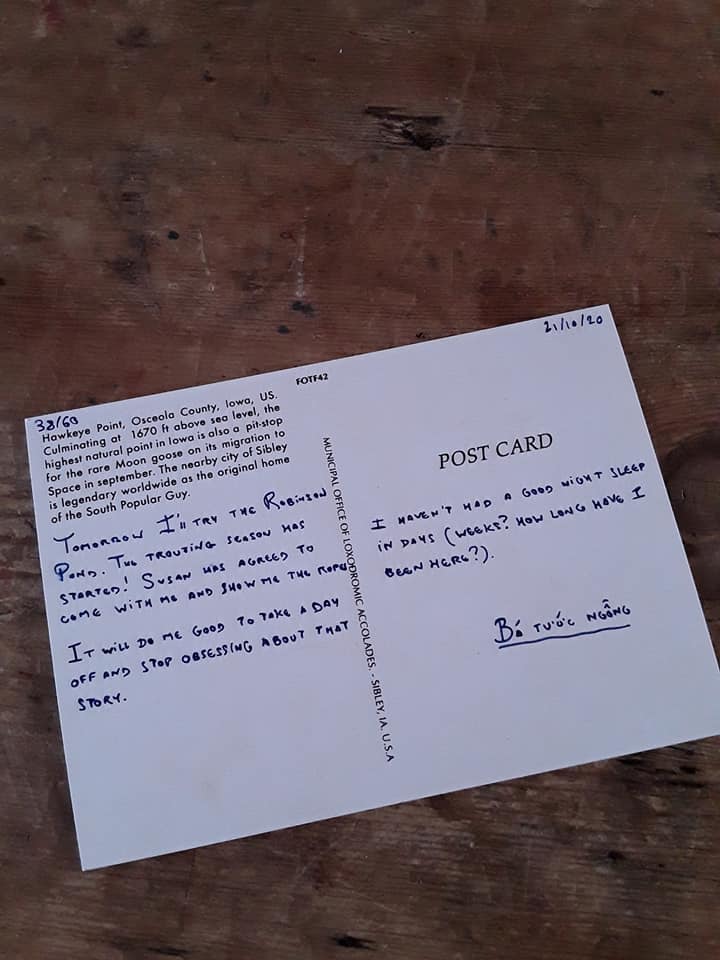 38
Date sent: 21/10/20
Date found: 08/03/21
Tomorrow I'll try the Robinson Pond. The trouting season has started! Susan has agreed to come with me and show me the ropes. It will do me good to take a day off and stop obsessing about that story. I haven't had a good night's sleep in days (weeks? How long have I been here?).
Bá tước ngỗng
Found by Nic Woodland Golesworthy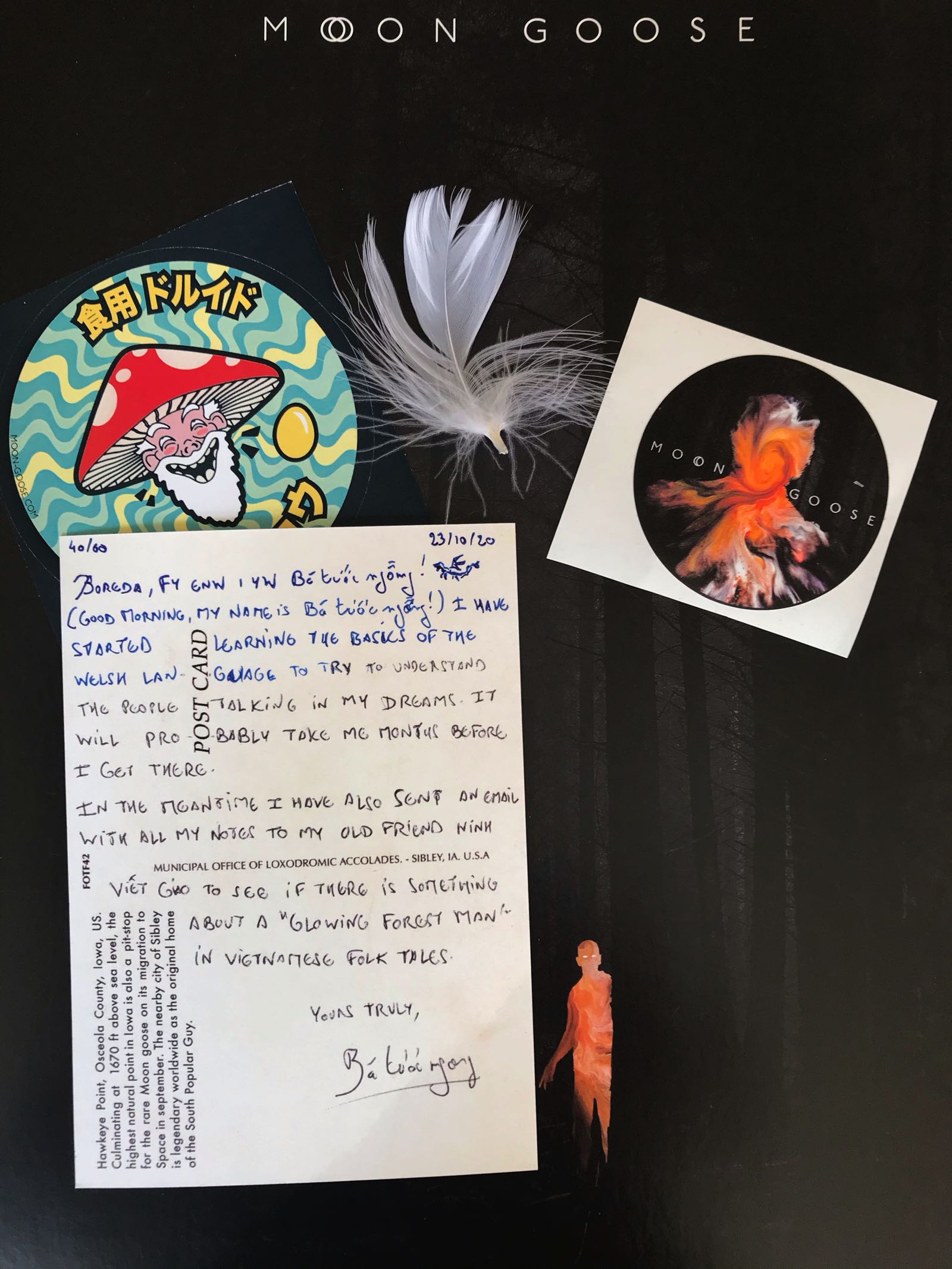 40
Date sent: 23/10/20
Date found: 13/04/21
Boreda, fy enw i yw Bá tước ngỗng. (Good morning, my name is Bá tước ngỗng!) I have started learning the basics of the Welsh language to try and understand the people talking in my dreams. It will probably take me months before I get there. In the meantime I have also sent an email with all my notes to my old friend Ninh Viết Giao to see if there is something about a "glowing forest man" in Vietnamese Folk Tales.
Bá tước ngỗng
Found by Simon Fisher-Jones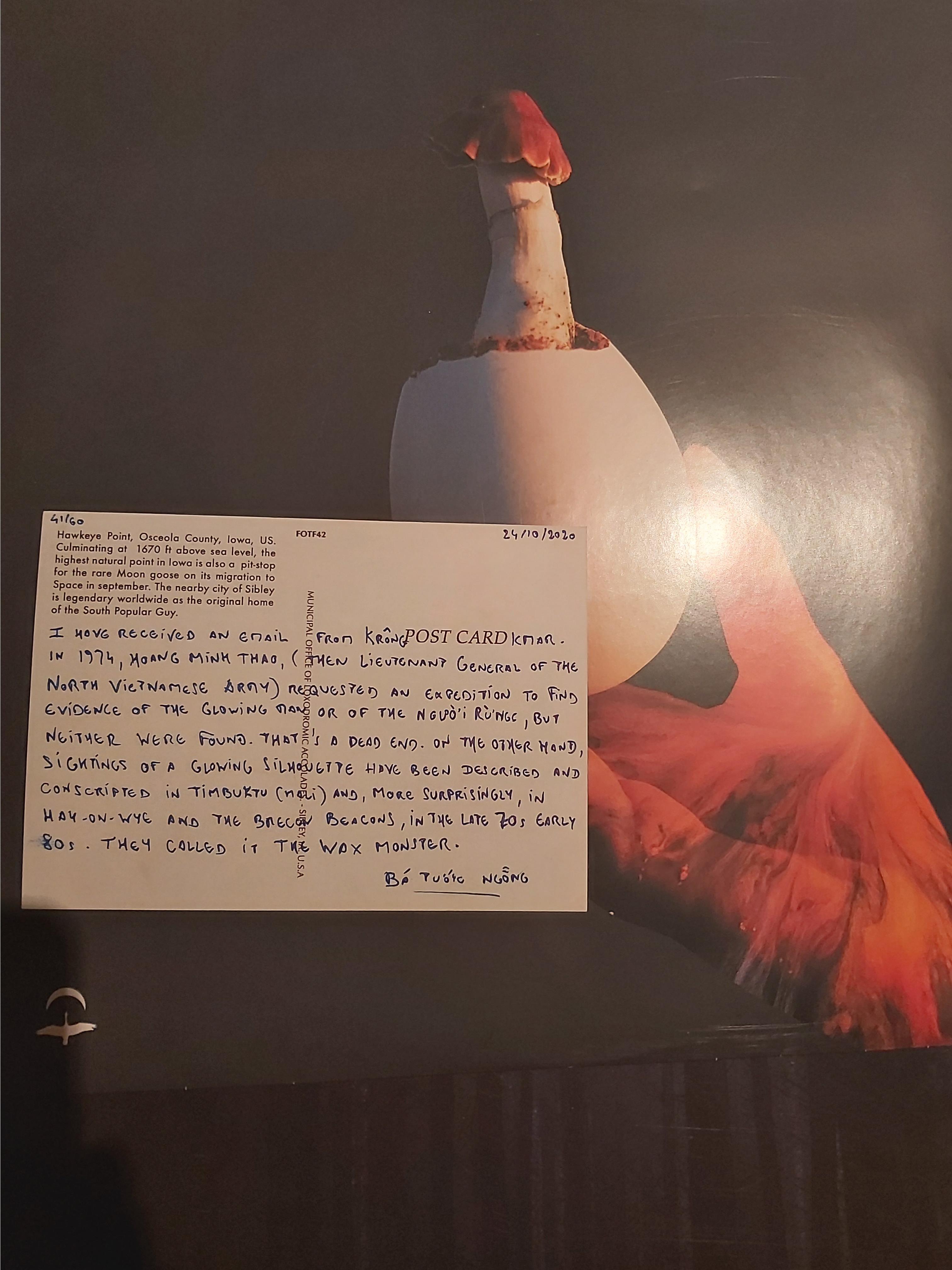 41
Date sent: 24/10/20
Date found: 10/03/21
I have received an email from Krông Kmar. In 1974, Hoang Minh Thao, (then Lieutenant General of the North Vietnamese Army) requested an expedition to find evidence of the glowing man or of the Người Rừngs, but neither were found. That's a dead end. On the other hand, sightings of a glowing silhouette have been described and conscripted in Timbuktu (Mali, 1959) and, more surprisingly, in Hay-on-Wye and the Brecon Beacons, in the late 1970s early 1980s. They called it the Wax Monster.
Bá tước ngỗng
Found by Jack Sampson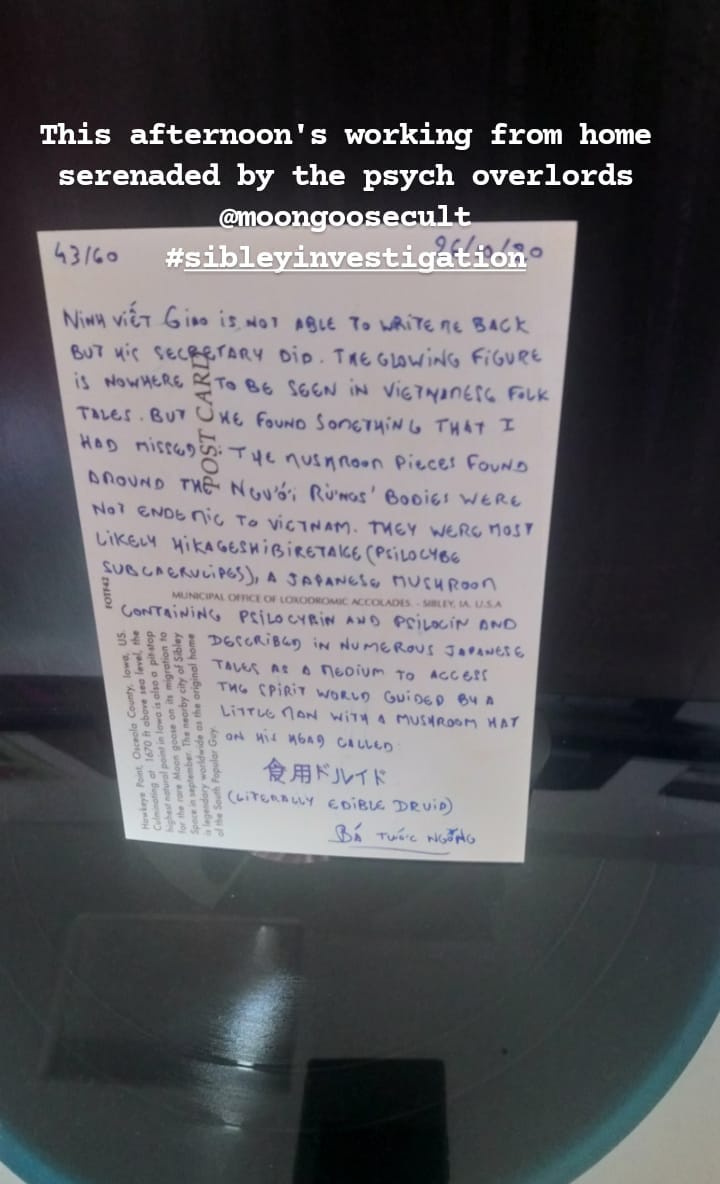 43
Date sent: 26/10/20
Date found: 08/03/21
Ninh Viết Giao is not able to write me back but his secretary did. The Glowing Figure is nowhere to be seen in Vietnamese Folk Tales. But he found something that I had missed. The mushrooms pieces found around the Người Rừngs' bodies were not endemic to Vietnam. They were most likely Hikageshibiretake (Psilocybe subcaerulipes), a Japanese mushroom containing psilocybin and psilocin and described in numerous Japanese tales as a medium to access the spirit world guided by a little man with a mushroom hat on his head called 食用ドルイド (literally edible druid).
Bá tước ngỗng
Found by Jonathan Roby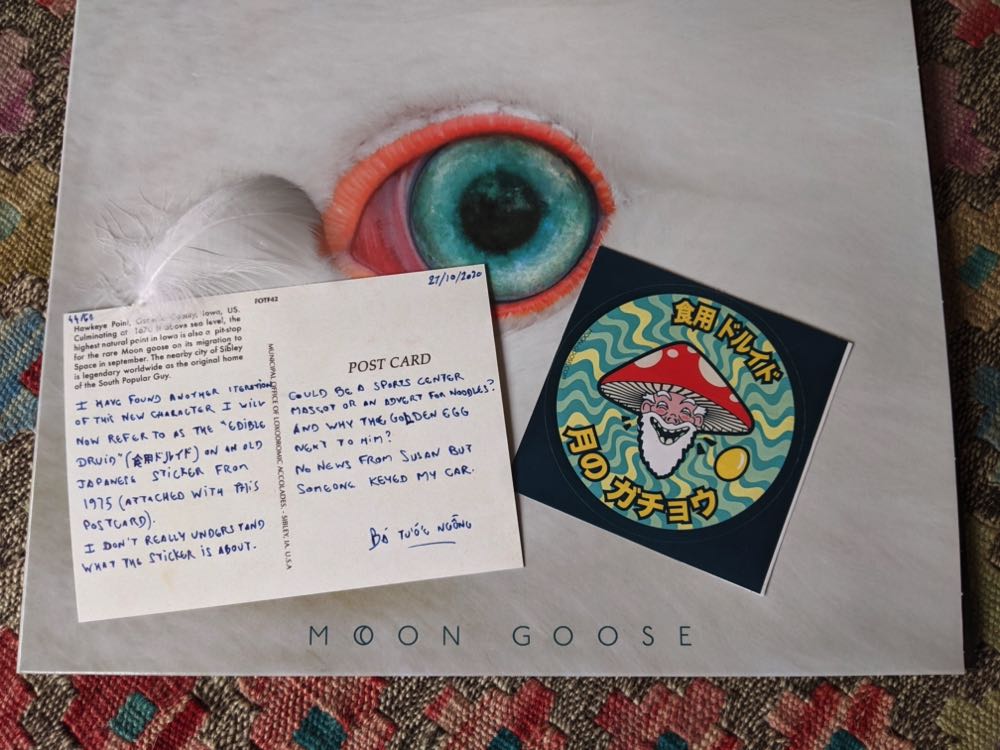 44
Date sent: 27/10/20
Date found: 08/03/21
I have found another iteration of this new character I will now refer to as the "Edible Druid" (食用ドルイド) on a old Japanese sticker from 1975 (attached with this postcard). I don't really understand what the sticker is about. Could be a sports center mascot or an advert for noodles? And why the Golden Egg next to him? No news from Susan but someone keyed my car.
Bá tước ngỗng
Found by Alan Ryan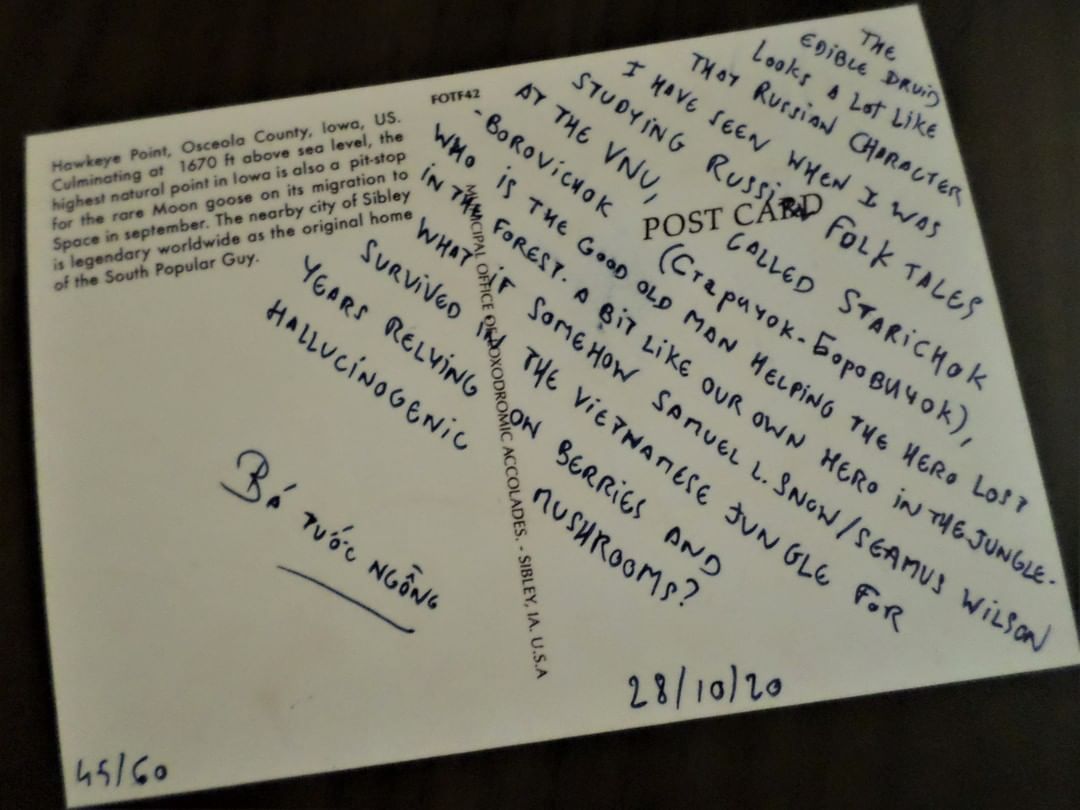 45
Date sent: 28/10/20
Date found: 08/03/21
The Edible druid looks a lot like that Russian character I have seen when I was studying Russian Folk Tales at the VNU, called Starichok-Borovichok (Старичок-Боровичок), who is the good old man helping the hero lost in the forest. A bit like our own hero in the jungle. What if somehow Samuel Snow/Seamus Wilson survived in the Vietnamese jungle for years relying on berries and hallucinogenic mushrooms?
Bá tước ngỗng
Found by Gavin Lloyd Wilson of
Spurious Transients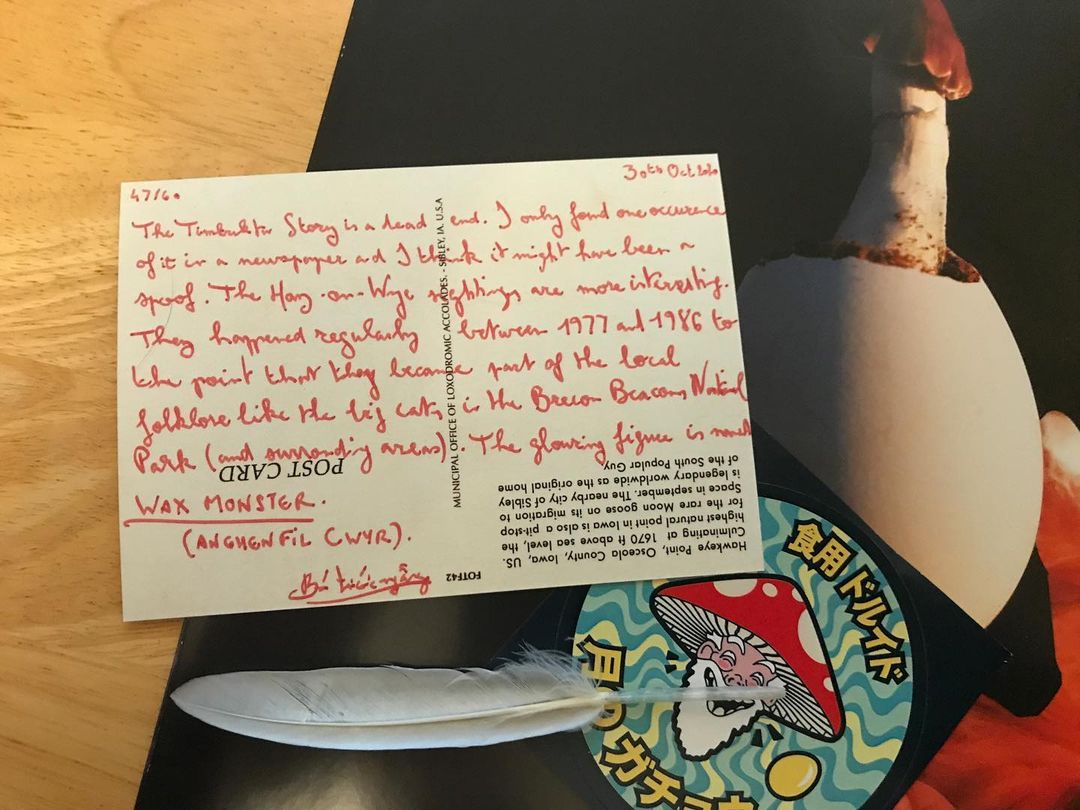 47
Date sent: 30/10/20
Date found: 23/04/21
The Timbuktu story is a dead end. I only found one occurrence of it in a newspaper and I think it might have been a spoof. The Hay-on-Wye sightings are more interesting. They happened regularly between 1977 and 1986 to the point that they became part of the local folklore like the big cats in the Brecon Beacons National Park (and surrounding areas). The glowing figure is named Wax Monster (Anghenfil Cwyr).
Bá tước ngỗng
found by John Sewell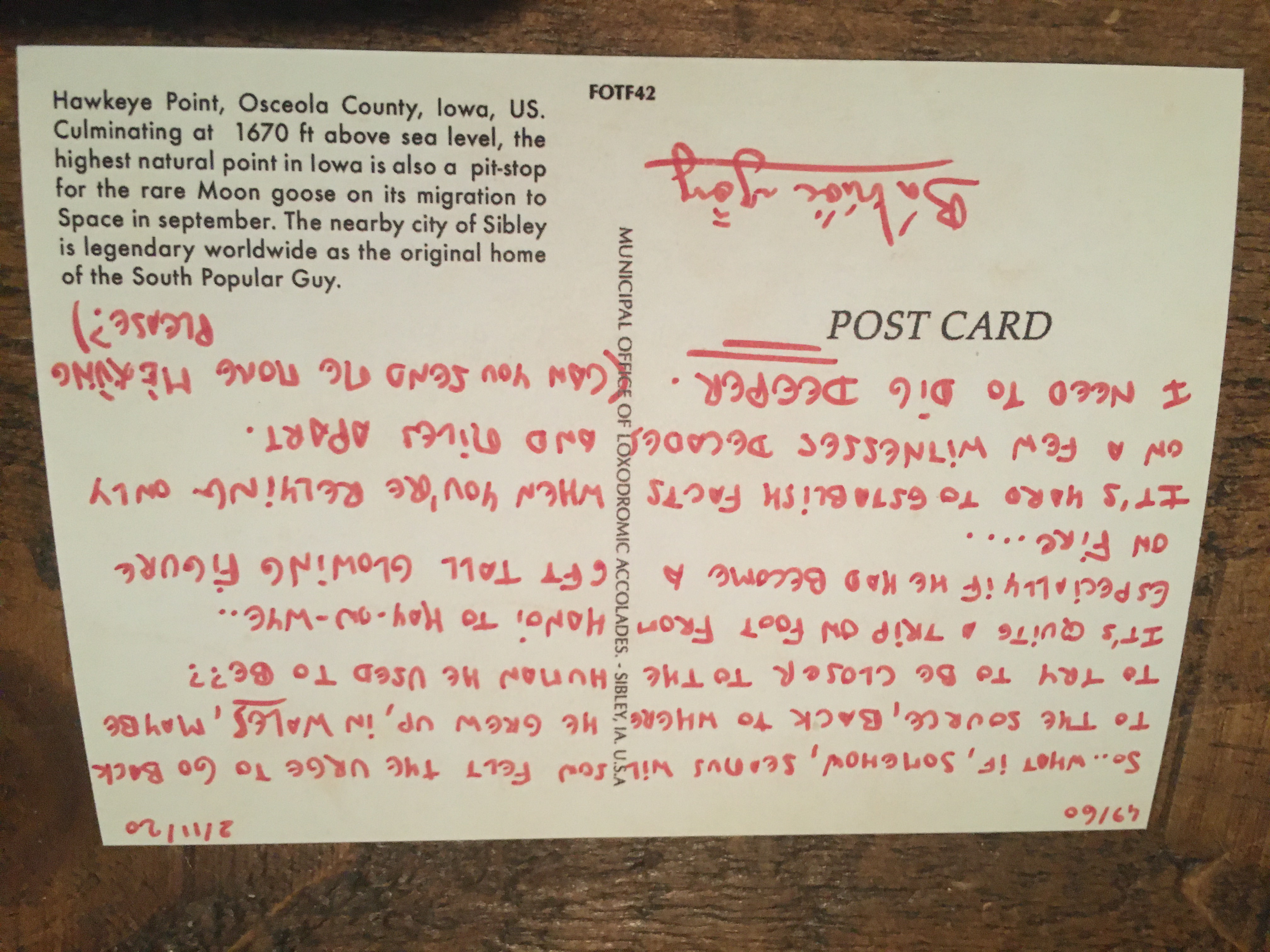 49
Date sent: 02/11/20
Date found: 05/04/21
So what if, somehow, Seamus Wilson felt the urge to go back to the source, back to where he grew up, in Wales, maybe to try to be closer to the human he used to be? It's quite a trip on foot from Hanoi to Hay-on-Wye. Especially if he had become a 6ft tall glowing figure on fire... It's hard to establish facts when you're relying only on a few witnesses decades and miles apart. I need to dig deeper. Can you send me more Mè xửng please?
Bá tước ngỗng
Found by Pete Dewell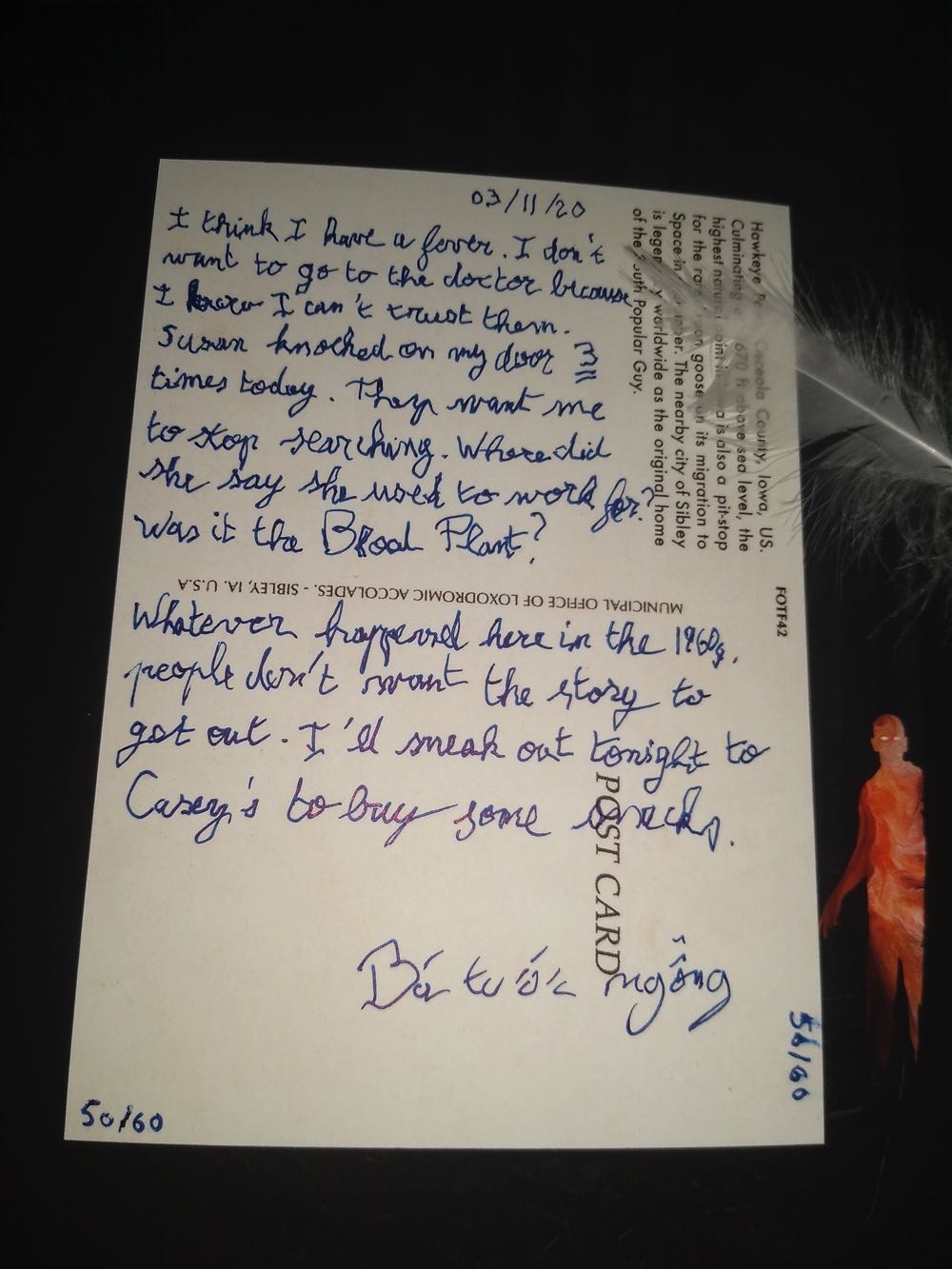 50
Date sent: 03/11/20
Date found: 08/03/21
I think I have a fever. I don't want to go to the doctor because I know I can't trust them. Susan knocked on my door three times today. They want me to stop searching. Where did she say she used to work for? Was it the Blood Plant? Whatever happened here in the 1960s, people don't want the story to get out. I'll sneak out tonight to Casey's to buy some snacks.
Bá tước ngỗng
Found by Tim Moulder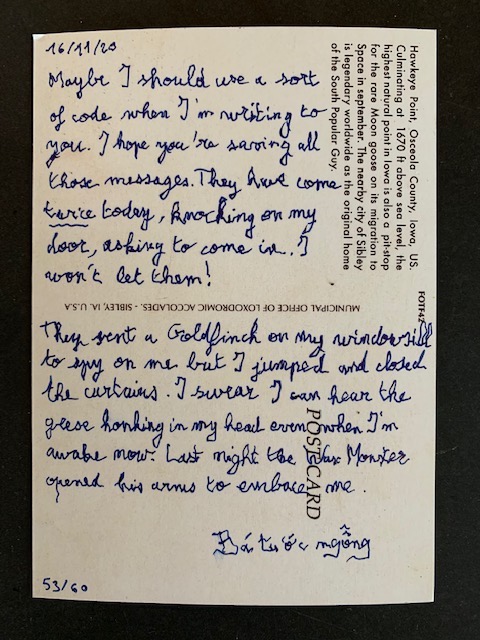 53
Date sent: 16/11/20
Date found: 13/03/21
Maybe I should use a sort of code when I'm writing to you. I hope you're saving all those messages. They have come twice today, knocking on my door, asking to come in. I won't let them. They sent a Goldfinch on my windowsill to spy on me but I jumped and closed the curtains. I swear I can hear the geese honking in my head even when I'm awake now. Last night the Wax Monster opened his arms to embrace me.
Bá tước ngỗng
Found by Jonathan Bradford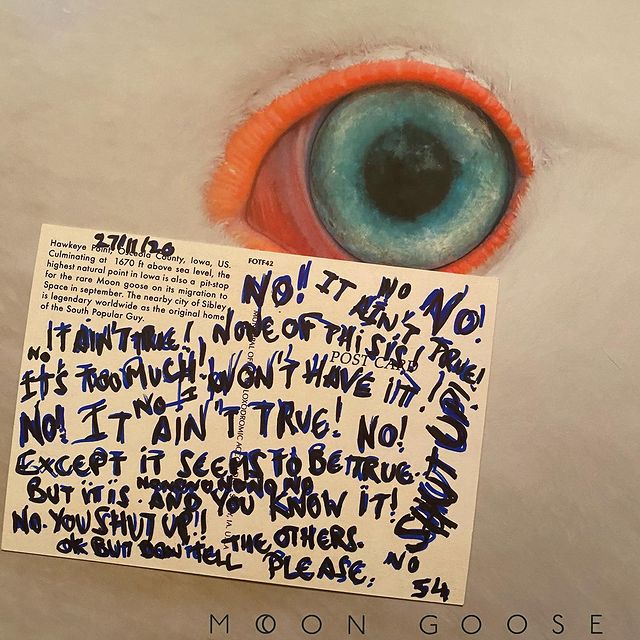 54
Date sent: 27/11/20
Date found: 23/03/21
It ain't true. It ain't true. It ain't true. It ain't true. I won't have it. It's too much. It ain't true. None of this is. Except it seems to be. NO. But it is, and you know it. You know you do. Shut up! No, you shut up! Ok, fine but don't tell the others.
Bá tước ngỗng
Found by Sean Canning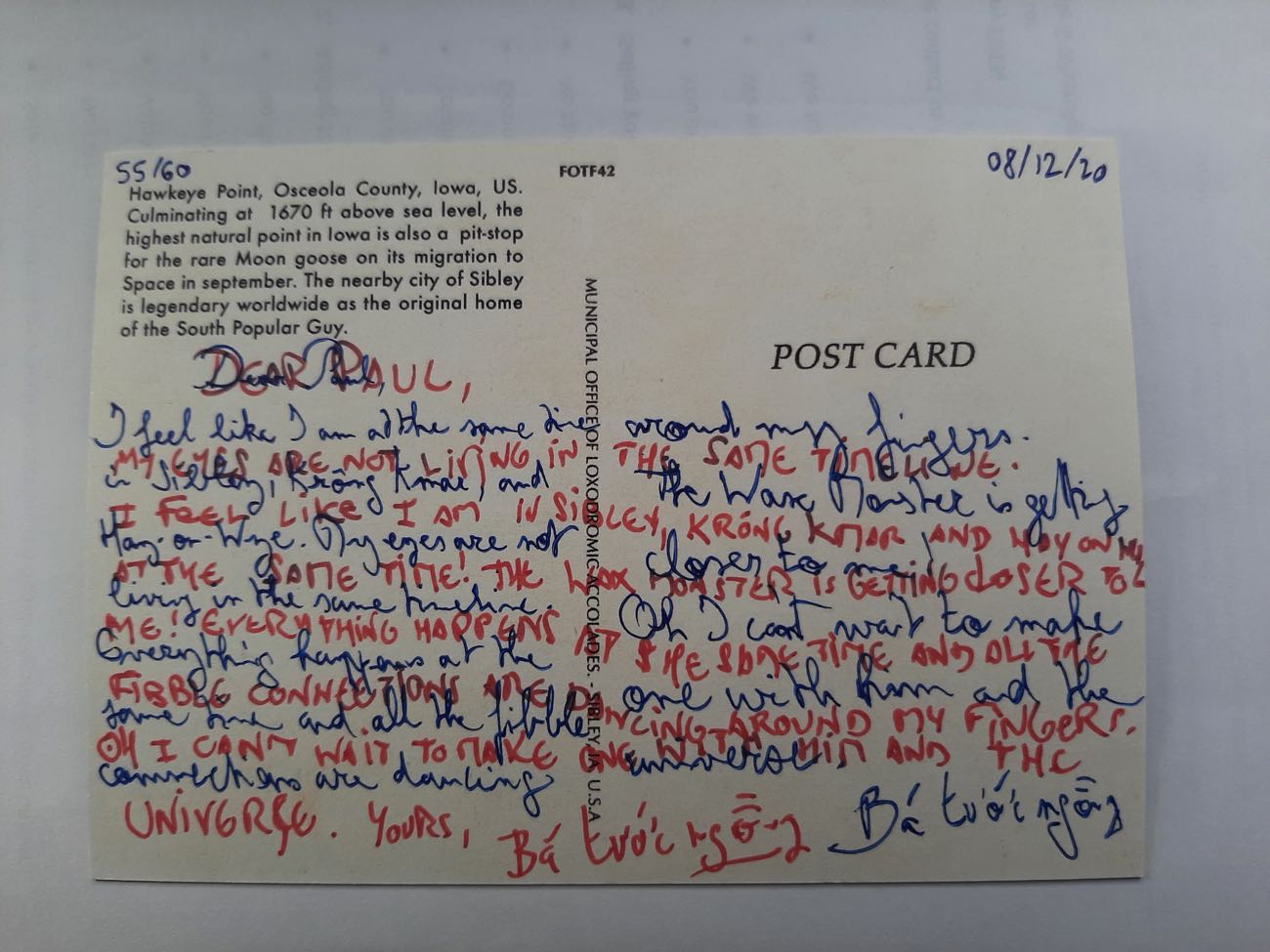 55
Date sent: 08/12/20
Date found: 01/04/21
I feel like I am at the same time in Sibley, Krông Kmar and Hay-on-Wye. My eyes are not living in the same timeline. Everything happens at the same time and all the feeble connections are dancing around my fingers. The Wax Monster is getting closer to me. Oh I can't wait to make one with him and the universe.
Bá tước ngỗng
Found by Paul Cox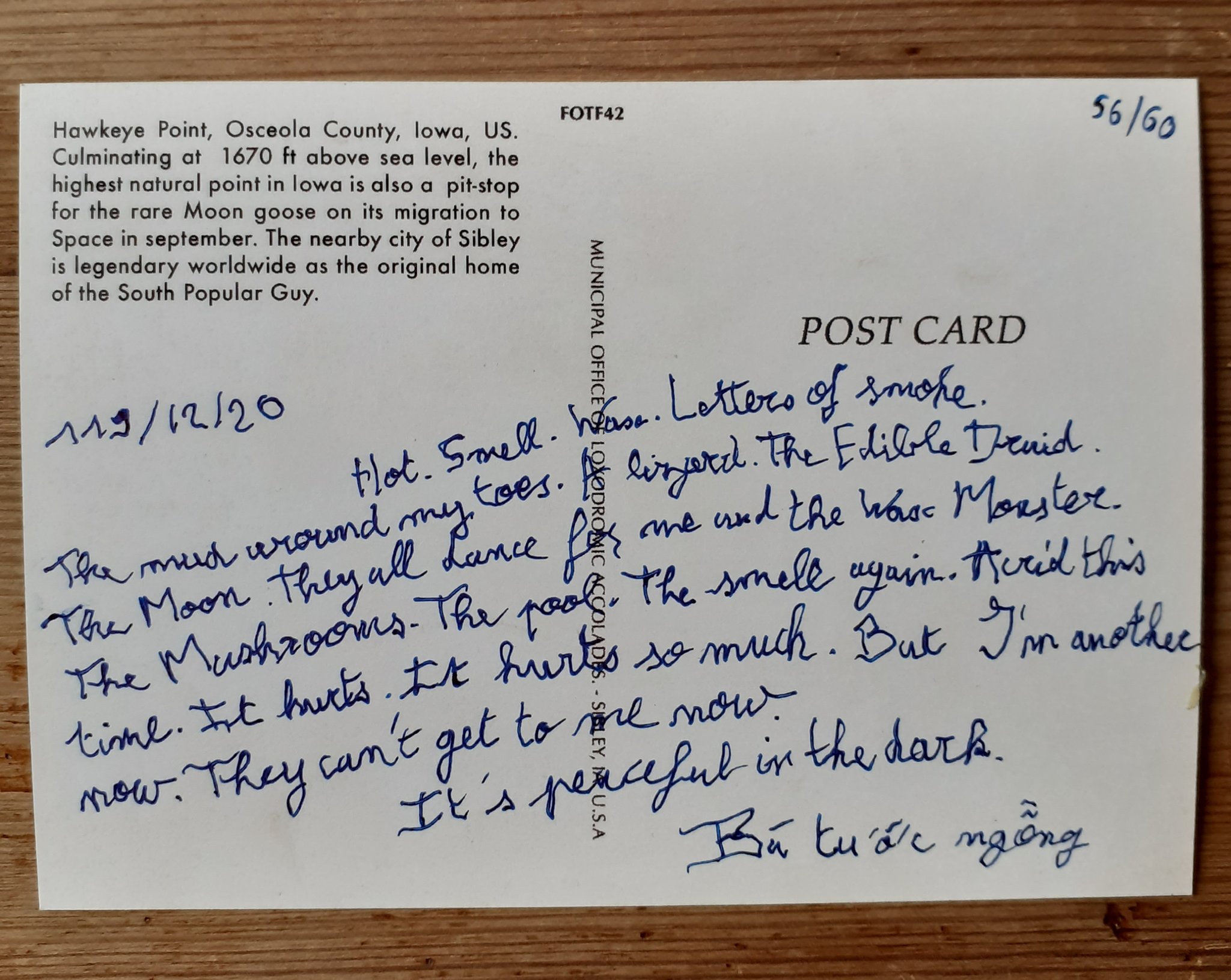 56
Date sent: 119/12/20
Date found: 09/03/21
Hot. smell. Wax. Letters of smoke. The mud around my toes. A lizard. The Edible Druid. The Moon. They all dance for me and the Wax Monster. The mushrooms. The pool. The smell again. Acrid this time. It hurts. It hurts so much. But I'm another now. They can't get to me now. It's peaceful in the dark.
Bá tước ngỗng
Found by Alan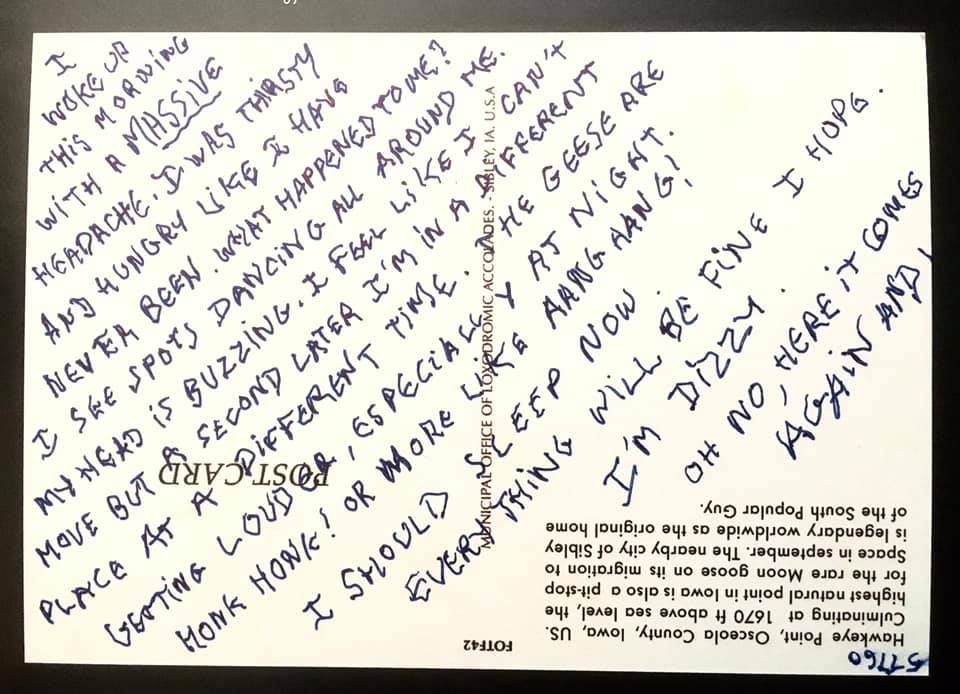 57
Date sent: 570a/0/20
Date found: 09/03/21
I woke up this morning with a massive headache. I was thirsty and hungry like I have never been. What happened to me? I see spots dancing all around me. My head is buzzing. I feel like I can't move but a second later I'm in a different place at a different time. The geese are getting louder, especially at night. Honk Honk! Or more like Aang Aang! I should sleep now, everything will be fine I hope. I'm dizzy. Oh no, here it comes again and
Bá tước ngỗng
Found by Keith Jones from
Fruits de Mer Records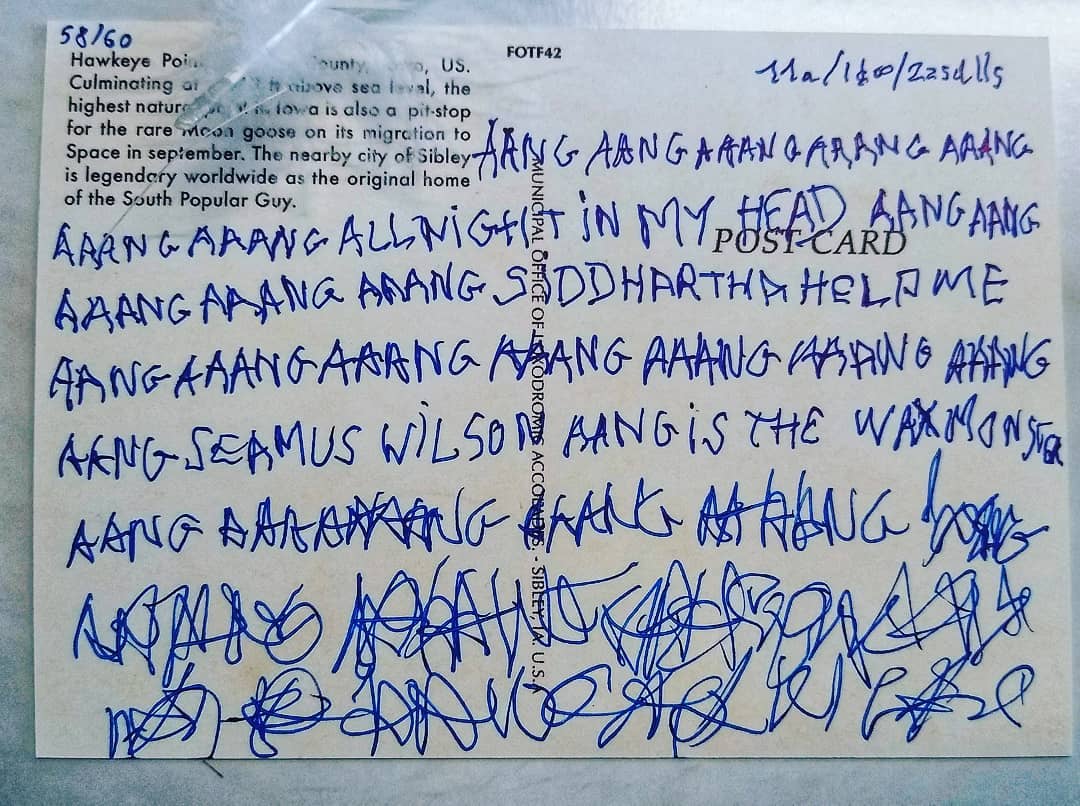 58
Date sent: 11a/1¢∞/2zsd
Date found: 08/03/21
AANG AANG AANG AANG AANG AANG AANG AANG AANG AANG AANG AANG ALL NIGHT IN MY HEAD AANG AANG AANG AANG SIDDHARTHA HELP ME AANG AANG AANG AANG AANG AANG AANG AANG SEAMUS WILSON IS THE WAX MONSTER AANG AANG AANG AANG
Bá tước ngỗng
Found by
Mike Brewer
of Sa-wa-ro Records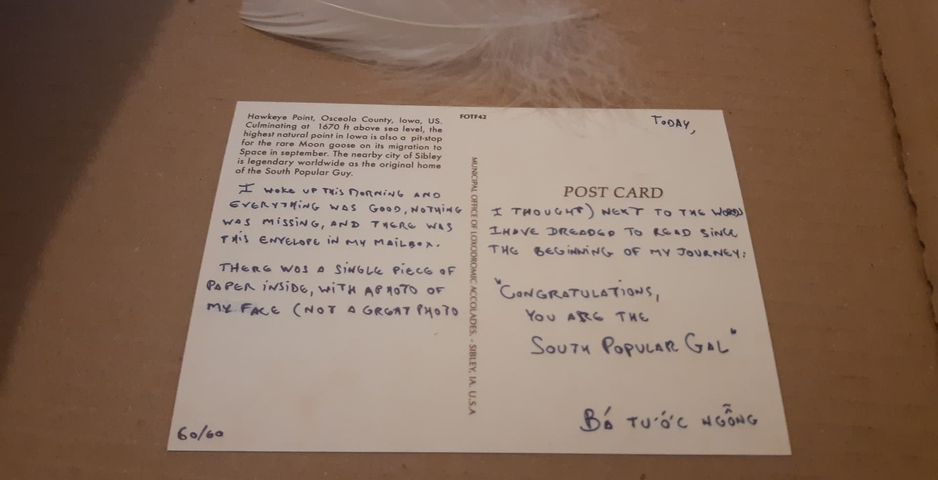 60
Date sent: Today
Date found: 08/03/21
I woke up this morning and everything was good, nothing was missing, and there was this envelope in my mailbox. There was a single piece of paper inside, with a photo of my face (not a great photo, I thought) next to the words I have dreaded to read since the beginning of my journey. "Congratulations, you are the South Popular Gal".
Bá tước ngỗng
Found by Leila Demetriou